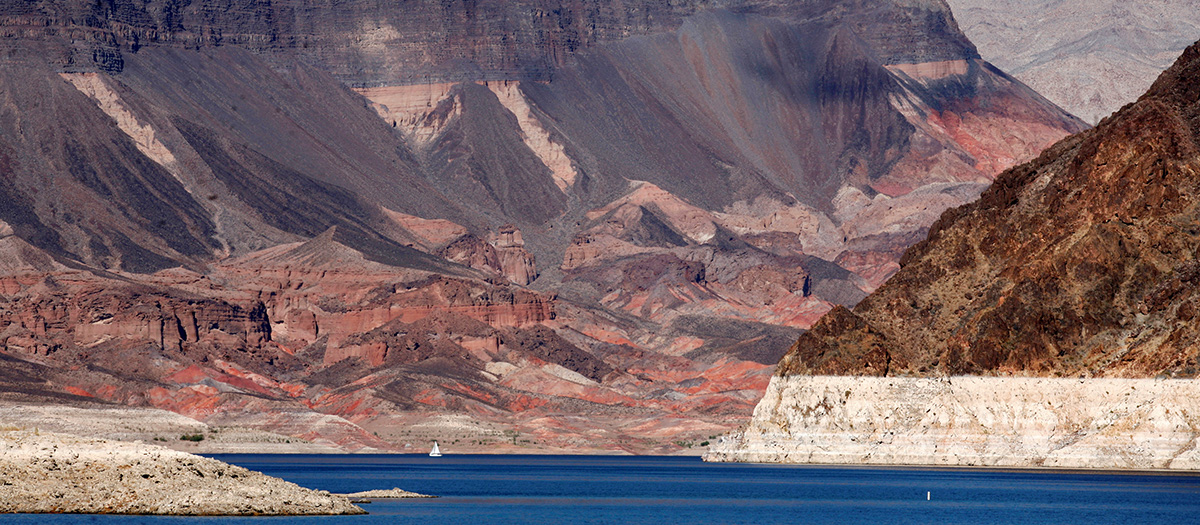 Responding to drought
The Colorado River system is facing the worst drought on record. The water level of Lake Mead, which serves as one of the primary water storage reservoirs, has dropped more than 130 feet since January 2000.
Southern Nevada relies on the Colorado River for 90 percent of its water supply. Challenges created by declining lake levels include:
Possible reduction in available Colorado River water if conditions warrant a shortage declaration
Facility operational challenges if lake levels fall below water intakes
Water quality issues as warmer surface water draws closer to the intake openings
However, the Southern Nevada Water Authority has been monitoring the drought for more than a decade and taken steps to meet these challenges. Our Water Resource Plan includes detailed plans for securing water resources.
Conservation as a community
Thanks largely to the adoption of drought restrictions in 2003, conservation efforts in the Las Vegas Valley have helped reduce the community's Colorado River consumption by 28 billion gallons between 2002 and 2017, even as the population increased by nearly 660,000 residents during that time.
In 2017, Southern Nevada used 127 gallons per capita per day, representing a 36 percent decline the community's per capita water use since 2002. Note: This number reflects water from all sources used by residents and businesses served by municipal water providers. Additionally, it includes recovered indoor water that was treated and returned to the Colorado River system and water used by 40 million annual visitors. (Because different water agencies' calculation methodologies vary, comparing cities' water efficiency using this metric is not recommended.)
Safeguarding our water supply
To prepare for ongoing drought, the Water Authority built a third drinking water intake and began construction on a low lake level pumping station to ensure access to our drinking water supply at Lake Mead should lake levels continue to fall. The intake also will address water quality issues associated with declining lake levels.
Low lake level pumping station progress
As construction on the low lake level pumping station continues, workers excavate a 12,500 square-foot forebay, an underground cavern connected to 34 deep well shafts.