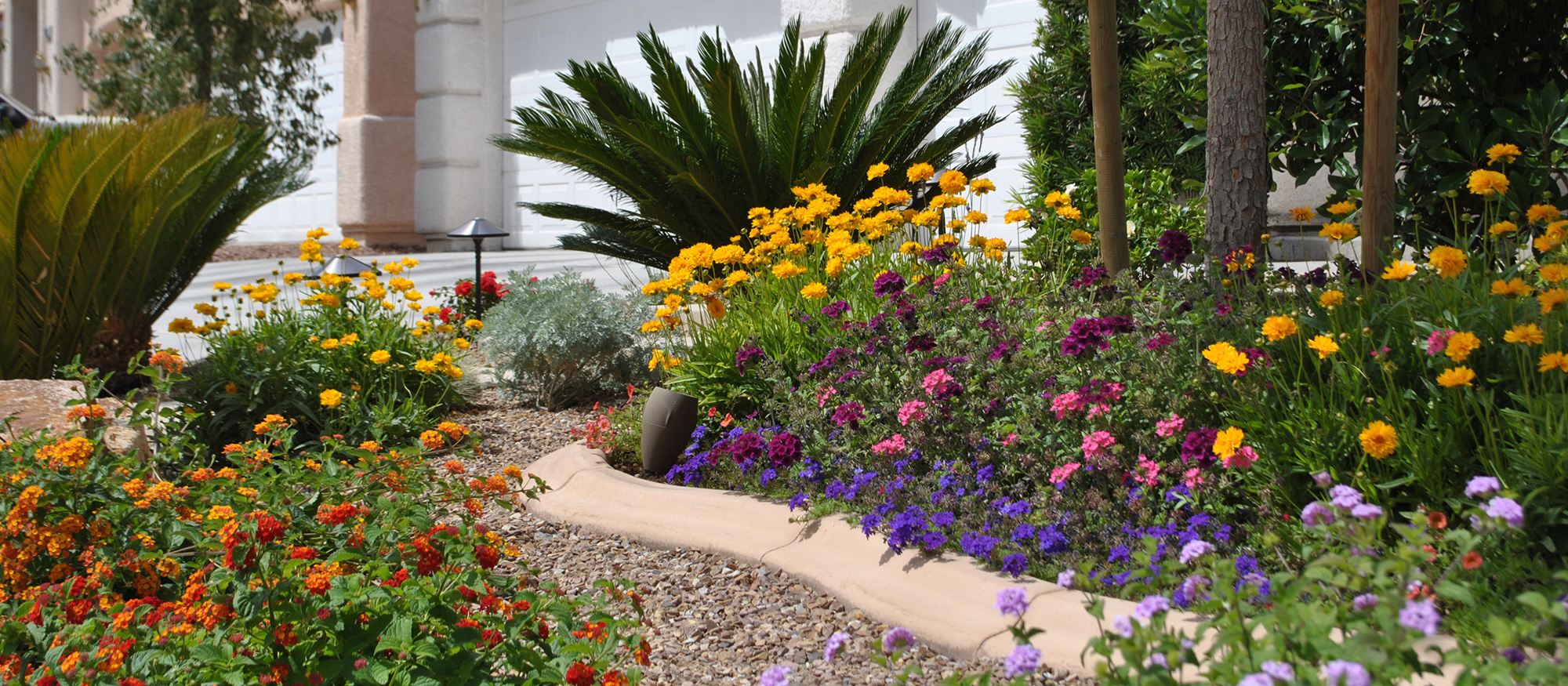 Landscape designs and plans
Designing a landscape can be an overwhelming but rewarding process. Before you can draw a landscape plan, however, you'll want to review your current landscape and decide what you want to change or create in your yard.
Free sample designs
Not sure where to start? We've got you covered with our professionally-designed landscape plans.
Professional design tips
Landscape classes
Learn from the experts at one of several free SNWA-sponsored landscaping classes online, at the Springs Preserve, and other convenient locations.
*Classes have ended for 2021, but there will be more online and in-person classes in spring 2022.
Reservations are required and classes fill up quickly. Please check back for updates to class listings.
Online classes: Basics of a Water Smart Landscape
Whether you're making a few water-efficient tweaks to your landscape or starting a full remodel or grass conversion, we can help.
You'll learn about landscape design, plants and the key components to have a successful landscape in the Las Vegas Valley climate.
These free classes are held online only at this time via Microsoft Teams.
For best results, a laptop or desktop computer is recommended. If you prefer to use a mobile device (iPad, tablet, or mobile phone), you will need to download the Microsoft Teams application onto your device in advance of the session.
* More online classes will be available in the spring. Please check back for updated listings.
In-person classes: Drip irrigation
We'll show you how to design and install a drip irrigation system. You'll learn how to select and assemble components and build a drip-system model right in the classroom.
Drip irrigation is the water-smart way to ensure healthy, happy plants!
* More in-person classes will be available in the spring. Please check back for updated listings.
Landscape design tips
Designing your own landscape can be overwhelming. Use these tips to ensure the design process of your landscape goes smoothly:
Check with your Homeowners Association for requirements or restrictions.
Decide in advance how much you can afford to spend.
Create a timeline to make the most of each season during the planting and installation process.
Know your zones (mini-oasis, transition, arid).
Take photos of eye-catching plants or plant groupings you may want to use in your landscape.
Consider blooming seasons when planning your landscape.
Create a focal point for each part of your property. Use lines throughout your landscape to define the space and direct the eye to those focal points.
Use repeating shapes, colors and textures to pull your landscape design together.
Account for plant growth and future water needs by planning your irrigation system for several years in advance.
Buy smaller plants to save money.
Place trees first as an anchor and work your way outward. Be sure to allow enough room for root growth.
Landscape design tips
SNWA provides useful tips to help you design a water smart landscape.