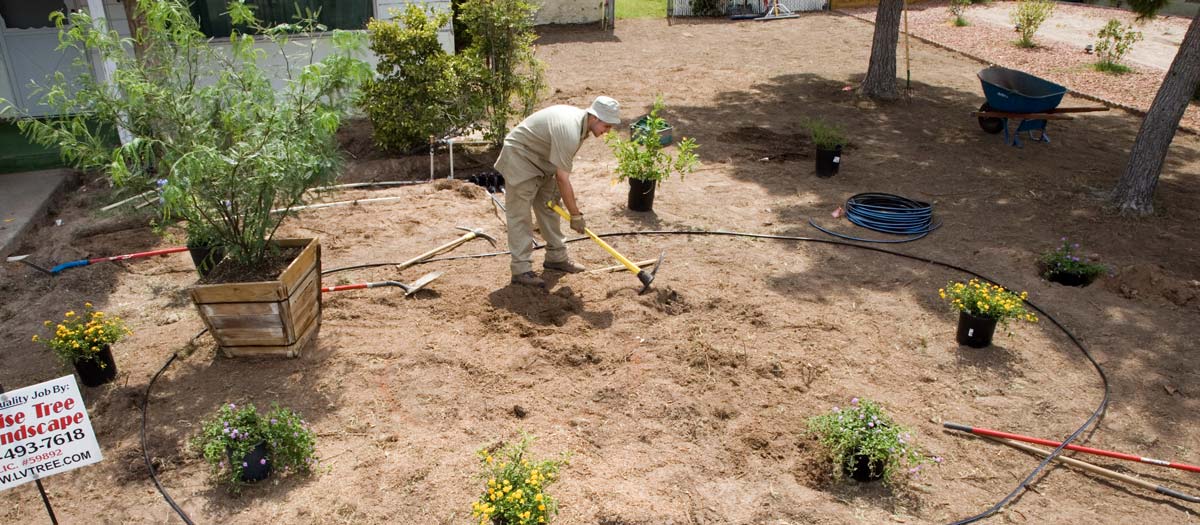 Hiring a landscaper
Whether you are hiring a contractor to install a new landscape or to maintain an existing one, potential landscapers should:
Hold appropriate business license(s)
Be insured and properly bonded
Have several current and past references with work samples
Have access to a certified arborist and certified landscape irrigation auditor, either as a consultant or on staff
Be aware of local watering laws
Be knowledgeable about proper landscape maintenance within a desert environment
Maintain good standing with both the Nevada State Contractors Board.
When hiring a qualified contractor to maintain your landscape, ensure:
Your maintenance proposal includes a schedule of work to be performed and the type of chemicals and nutrients to be used.
Your estimate includes specific monthly charges, how often service will be provided, and a detailed schedule of all maintenance to be performed.
Your landscape maintenance program includes plant maintenance, appropriate removal of tree staking, pruning, grass maintenance, and pest control.
Your irrigation maintenance program meets individual plant needs, irrigation system maintenance, proper irrigation scheduling.
When hiring a qualified contractor to install a new landscape, ensure:
You read the closing contract thoroughly, and that it is clear and in writing.
Plans and/or drawings are checked for accuracy.
Payment and performance bonds are secured.
The appropriate permits are obtained through the building department.
Other tips:
Your irrigation system should be designed for your landscape at maturity.
Be sure of the following: similar plants are on the same watering station, shrubs and trees are using drip irrigation, an efficient spray system and a backflow prevention unit is assembled properly.
During landscape installation, make frequent walk-through inspections and require unconditional "waiver and release" forms when you make a payment for any completed phase of your project.
When complete, your landscape should include proper plant selection and appropriate plant groupings. Be sure to file a notice of completion with the County Recorder's office within 24 hours of project completion and ensure you receive "as-built" drawings for your records, including hand-noted changes on the copy of originals.
Ensure warranties cover installation and start-up adjustment and winterization of all equipment, include specifics about individual parts used and system performance, please be sure to spell out exactly what the contractor covers.
Note: Consumers should always check with the Nevada State Contractors Board.