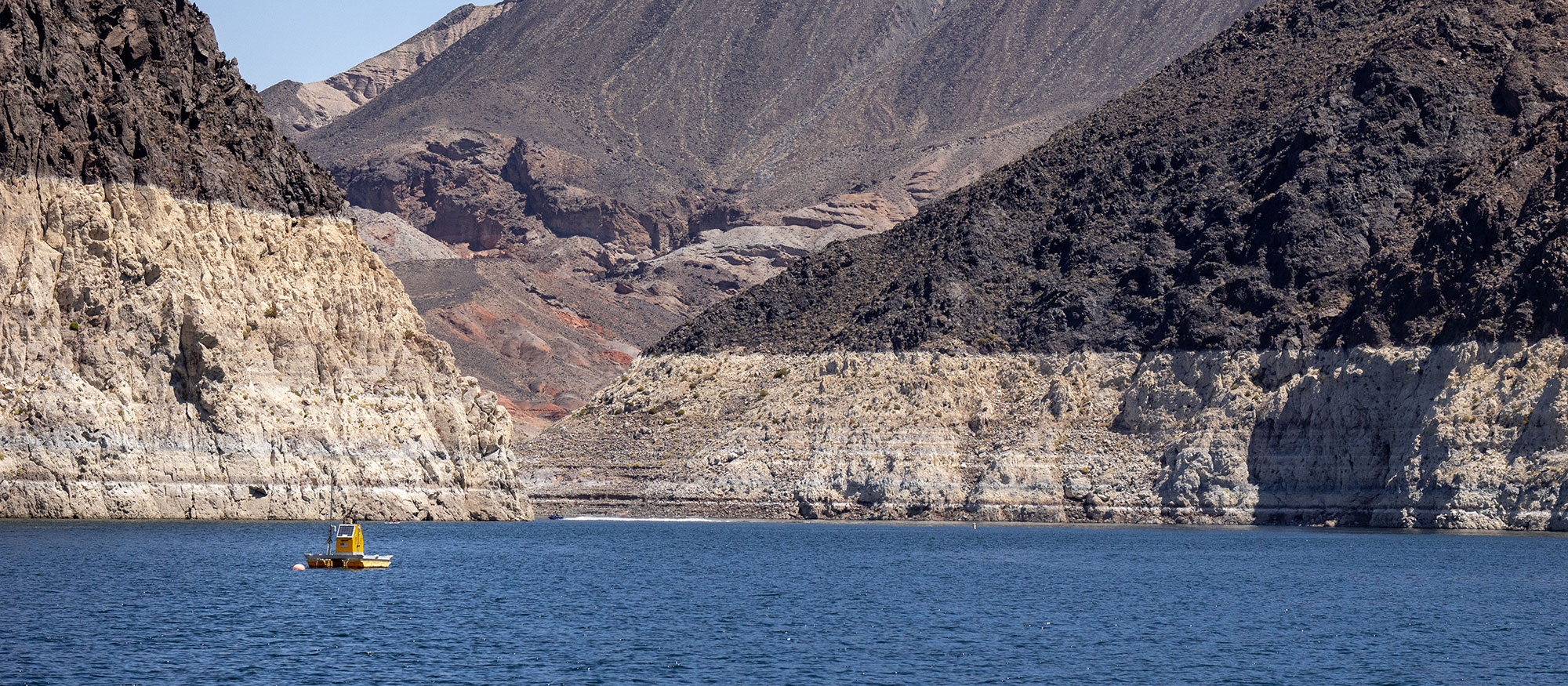 What we're doing to conserve
Southern Nevada relies on the Colorado River for 90 percent of its water supply.
The Colorado River system is facing the worst drought in the river basin's recorded history. The water level of Lake Mead, which serves as one of the river's primary water storage reservoirs, has dropped about 170 feet since January 2000, and the federal government has issued a water shortage declaration on the Colorado River.
For more than 20 years, the Southern Nevada Water Authority has been taking actions to respond to the drought and prepare for potential water cuts. From the development of new facilities such as the low lake level pumping station and third drinking water intake, to water banking and system conservation initiatives, these efforts have reduced the potential for customer impacts. One of the SNWA's largest efforts is implementing aggressive conservation initiatives to reduce our community water use.
Water Resource Plan
Find details on how we plan to meet the community's water needs, both in the short term and for the next half-century.
"Stop the building! Stop the resorts! Stop the golf courses! We don't have the water at Lake Mead!"
Southern Nevada, we hear you call out specific sectors of the community for its water usage... but is it deserved? Learn more about how some particular industries use water from Lake Mead and why our water supply is secure, even as lake levels decline.
We see what you see, less water at Lake Mead
Two decades ago, the Southern Nevada Water Authority recognized the challenges our community could face as the Colorado River began delivering less water to Lake Mead due what is now being called a megadrought. It acted quickly to ensure Las Vegas and Southern Nevada would have reliable access to water, even in a dead pool scenario.
Program achievements
The Water Authority has developed and implemented one of the most comprehensive water conservation programs in the nation.
Conservation efforts have helped the community reduce its per capita water use by 48 percent between 2002 and 2021, even as the population increased by more than 745,000 residents during that time.
Programs that have helped us achieve this accomplishment include:
Water Smart Landscape Rebate Program - 202 million square feet of grass have been removed, saving more than 152 billion gallons of water since 1999.
Water Efficient Technologies Program -

Since 2001, participating businesses have saved more than 19 billion gallons of water through the program.

Water Smart Homes - Nearly 13,000 homes were built via the program from 2005-2020, saving 14 billion gallons of water.
Pool Cover Instant Rebate Coupon Program - More than 45,000 coupons were distributed before the program was retired in June 2020, saving an estimated 5.6 billion gallons of water.
For more information about the history of SNWA's conservation program, read the Conservation Plan.
New initiatives
Continued declines in Lake Mead's water level are expected as Southern Nevada experiences a permanent transition to a more arid future, the result of ongoing climate change. For this reason, additional efforts are needed to ensure a reliable long-term water supply for our community.
Recognizing water conservation as a critical resource, the SNWA established a new conservation goal of 86 GPCD (gallons per capita per day) by 2035.  
Several major new water efficiency measures have either been adopted or are being considered by the Water Authority.
Cutting back on "useless" grass
A law enacted by the Nevada Legislature in 2021, AB356, will prohibit the use of Colorado River water to irrigate nonfunctional grass, beginning in 2027.
The law applies to Southern Nevada commercial, multi-family, government and other properties. It does not apply to grass in homeowners' yards, cemeteries, or to grass used for recreation at schools and parks.
Prohibiting installation of new grass
In December 2021, the Southern Nevada Water Authority Board of Directors approved a resolution to prohibit the installation of irrigated grass in new commercial and residential developments. Grass will still be permitted in schools and parks for community use, as well as cemeteries. The prohibition of grass in new developments will save approximately 27,000 acre-feet of water over the coming decades.
Prohibiting grass in front and backyards of new residential developments reduces the impact of growth on our community's water supply, helping ensure any new residential developments do not affect water supplies for existing homes and businesses. The Las Vegas Valley Water District and local jurisdictions, including Clark County, the cities of Henderson, North Las Vegas, Boulder City and Las Vegas, adopted rule and code changes to implement new turf restrictions in 2022.
The grass prohibition applies to the front and backyards of new residential developments, including HOAs, neighborhood developments, community associations, master-planned communities built by developers, and individual custom homes built by property owners.​
Limiting residential pool sizes
The Southern Nevada Water Authority approved a resolution in July 2022 that supports a 600-square-foot surface area limit on new residential pools. The Las Vegas Valley Water District and other local jurisdictions approved this change shortly thereafter with rule and code changes.
This measure will help reduce consumptive water use associated with evaporative water loss, targeting savings from the top 25 percent of new pools constructed.
While the average size swimming pool in Southern Nevada is about 475 square feet, the new pool size limits will prevent large-scale, water-intensive residential swimming pools. The measure is expected to save more than 32 million gallons over the next 10 years.
Moratorium on evaporative cooling
The Southern Nevada Water Authority Board of Directors voted to pass a resolution supporting a moratorium on the installation and use of evaporative cooling mechanisms in new commercial and industrial buildings in the Las Vegas Valley. This restriction does not apply to single-family homes. Evaporative cooling mechanisms are highly water intensive and are Southern Nevada's second largest consumptive use of water, exhausting nearly 10 percent of Southern Nevada's Colorado River allocation annually.
The Las Vegas Valley Water District approved the new conservation measure, ensuring that after Aug. 31, 2023, no new permits in their service area will be approved for commercial and industrial buildings that plan to be evaporatively cooled. The other SNWA member agencies will also need to adopt and enact this measure into regulatory codes, ordinances, and policies before this moratorium can be enforced. 
Alternative cooling technologies are available that are less water intensive, and the Southern Nevada Water Authority offers incentives to replace evaporative cooling.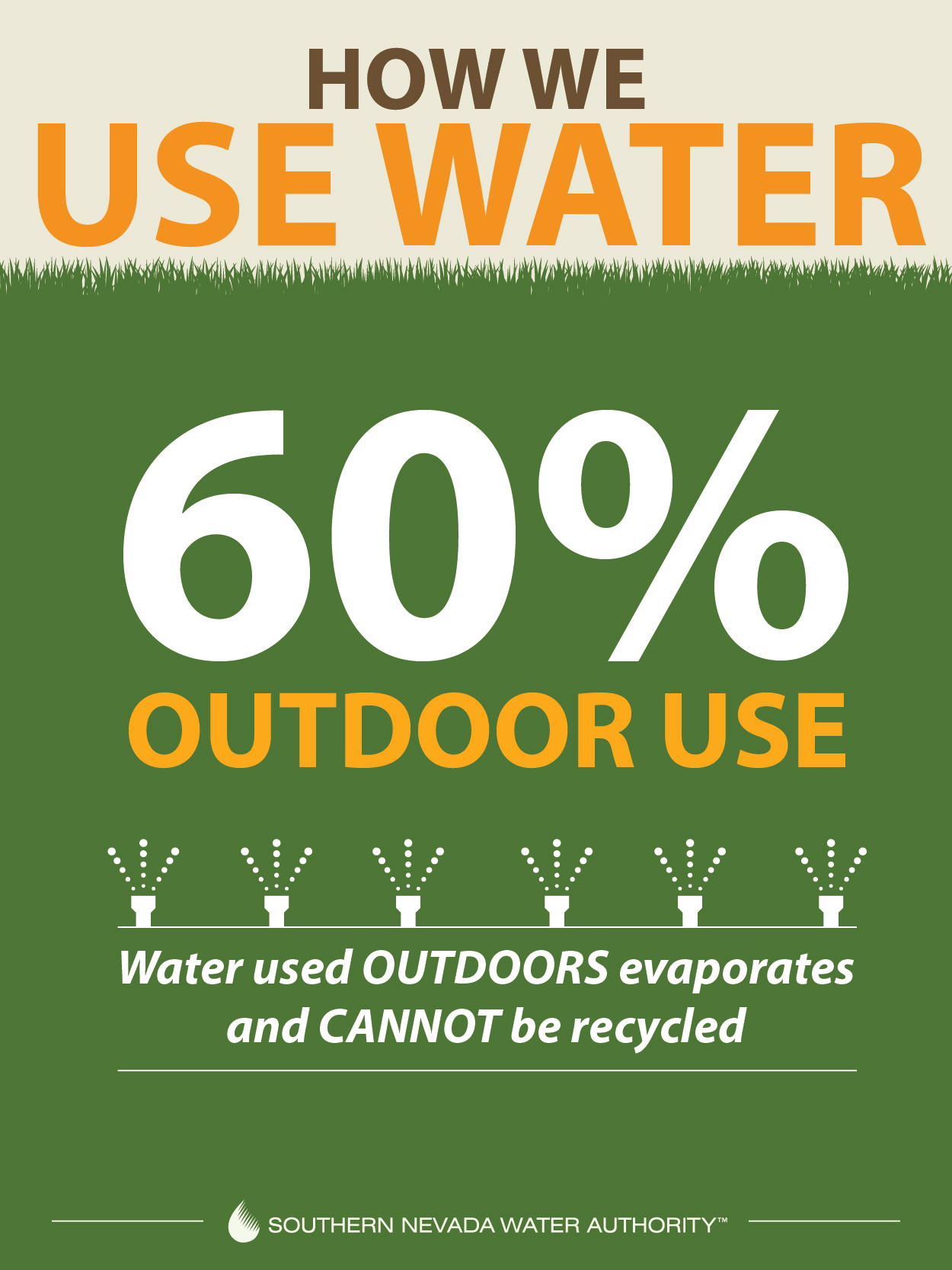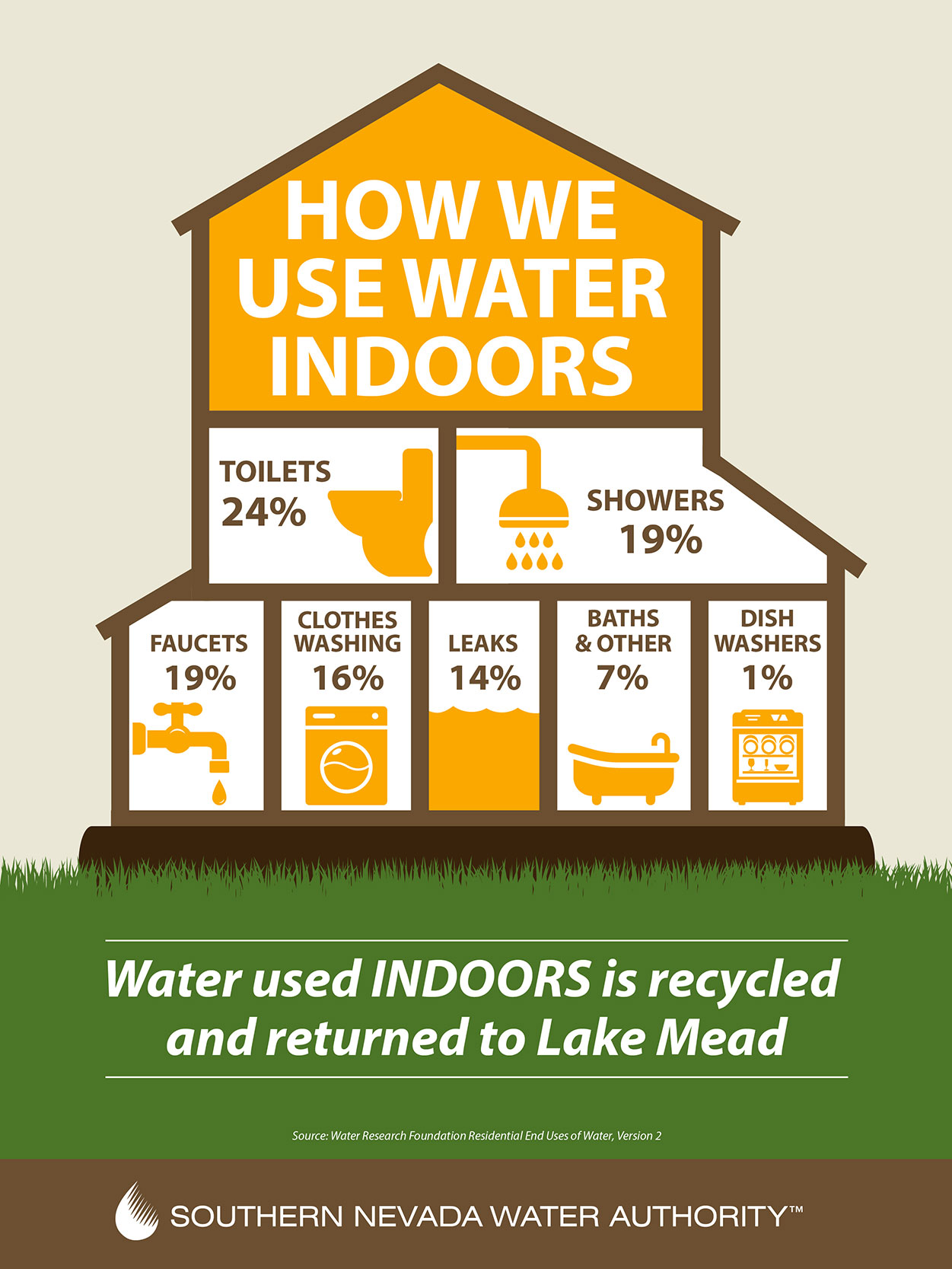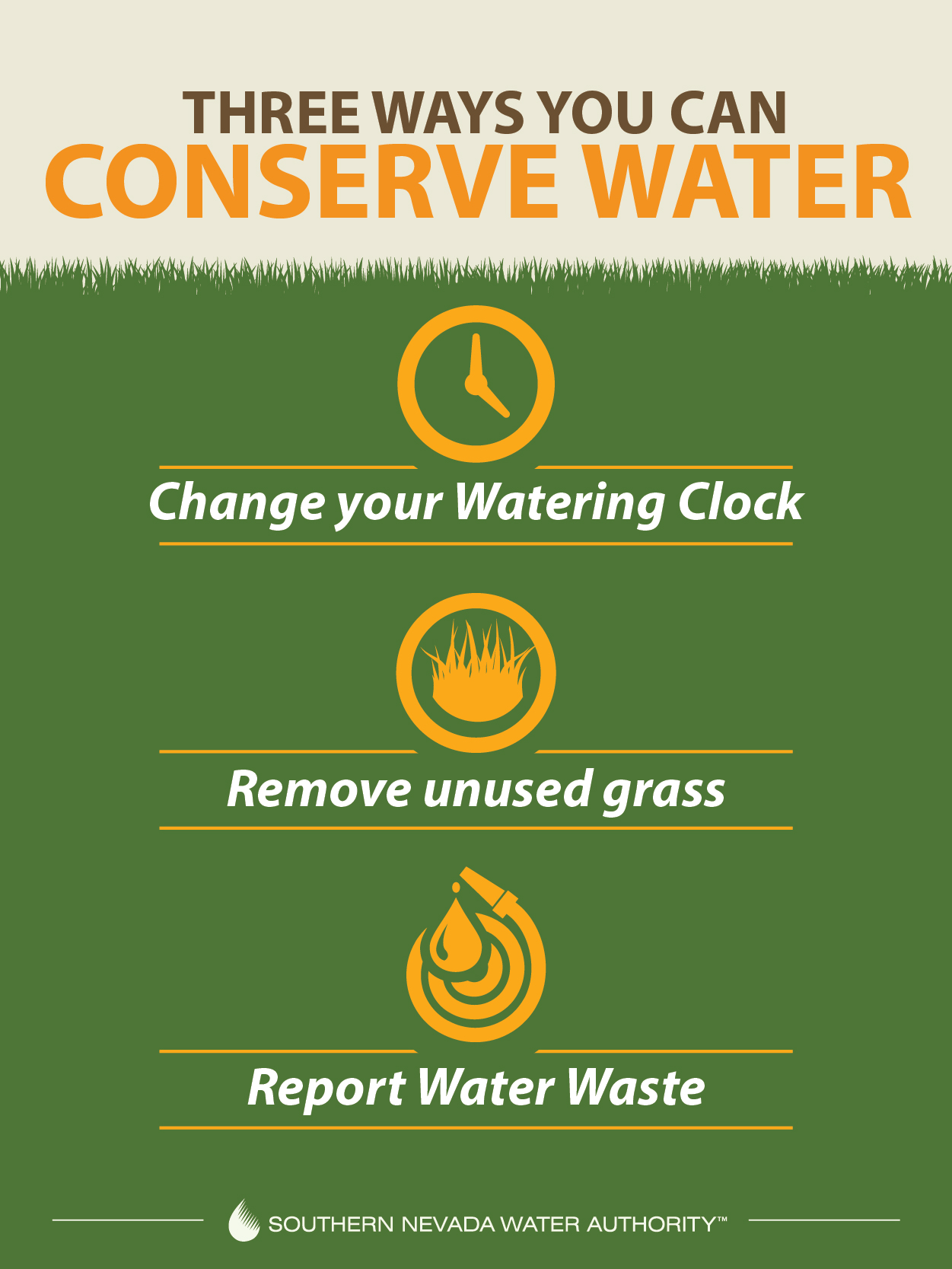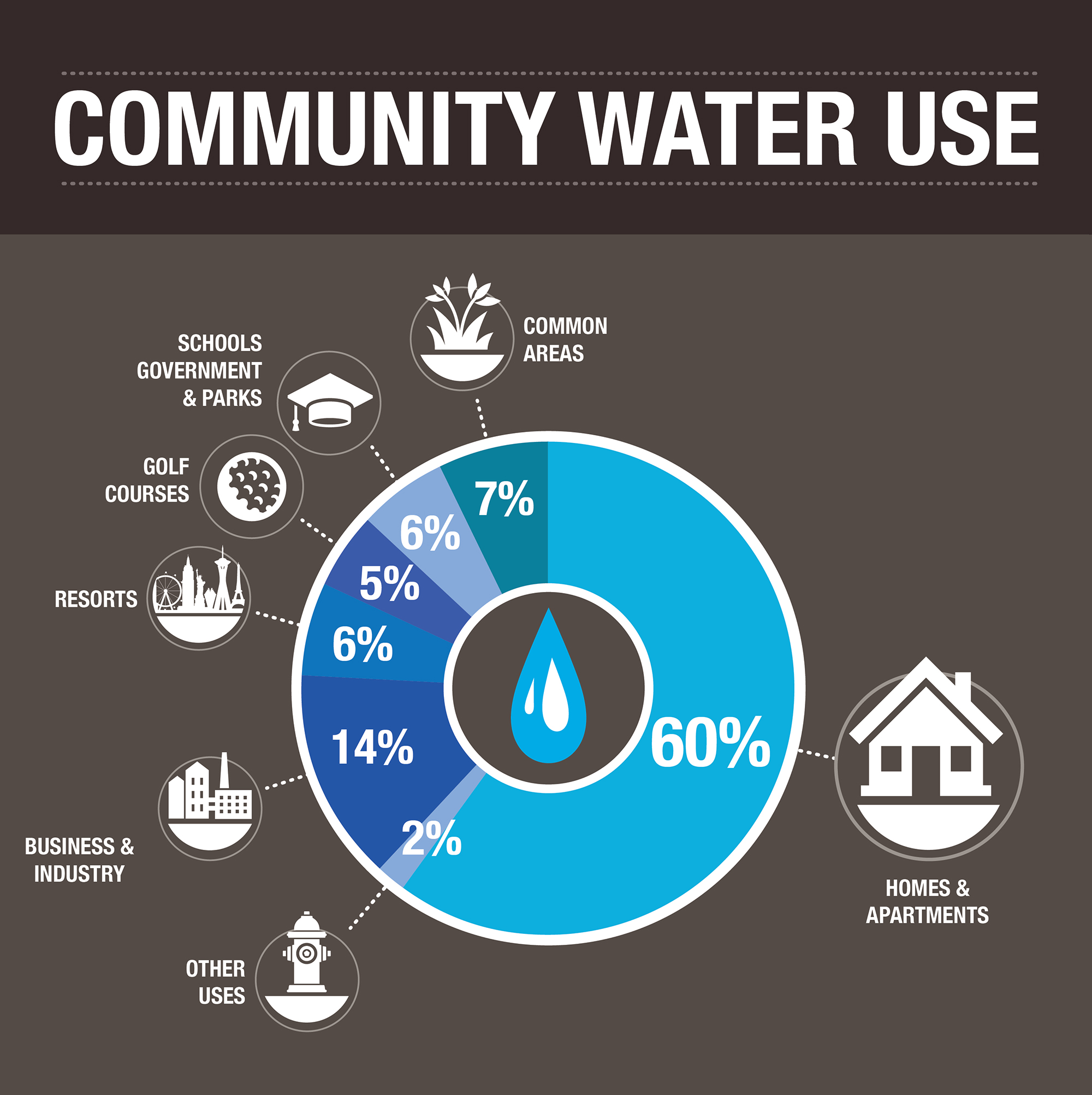 The majority of Southern Nevada's water is
used outdoors
. Most of that evaporates and cannot be returned to Lake Mead.
Nearly all the water we use
indoors
in Southern Nevada is treated and returned to Lake Mead. This recycled water earns us
return-flow credits
, which stretches our limited water supply.
Homes and apartments make up 60% of the community's water use.
Southern Nevada contains 74% of the state's population and creates 70% the state's economic output, while using less than 5% of water available for use in Nevada.
Southern Nevada resorts employ 16% of the state's workforce and only use about 1/10 of 1% of water available in Nevada.