Groundwater
The Las Vegas Valley relied on local groundwater supplies to meet most of its water demands until the construction of regional facilities for the diversion and treatment of Colorado River water in the early 1970s. Currently, 10 percent of Southern Nevada's municipal water supply comes from Las Vegas Valley groundwater.
The Las Vegas Valley Water District and North Las Vegas, member agencies of the Southern Nevada Water Authority, have permanent groundwater rights totaling 40,760 acre-feet and 6,201 acre-feet, respectively. The two entities operate about 100 permitted municipal wells in the Las Vegas Valley.
Although Southern Nevada's primary municipal water supply is Colorado River water, the municipal groundwater rights of the Water Authority's member agencies are among the most senior groundwater rights in the valley. Groundwater remains a critical component of the area's resource picture.
Additionally, the Water Authority continues to develop a significant number of in-state groundwater resources to provide a balanced mix of Colorado River and non-Colorado River water than currently exists.
Groundwater Management Program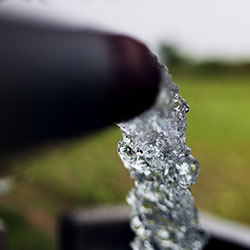 In 1997, the Nevada State Legislature directed the Water Authority to develop the Las Vegas Valley Groundwater Management Program to help protect and manage the valley's groundwater basin from over-drafting and potential sources of contamination.
The program is funded through an annual fee paid by all well users and holders of water permits or water rights.
Program activities:
Inventory of all wells in the Las Vegas Valley
A permanent recharge program
Increased groundwater quality monitoring
Conservation education for well users
Financial assistance program that pays up to 85 percent of connection costs for well users who are required by the Nevada State Engineer to connect to a municipal water system