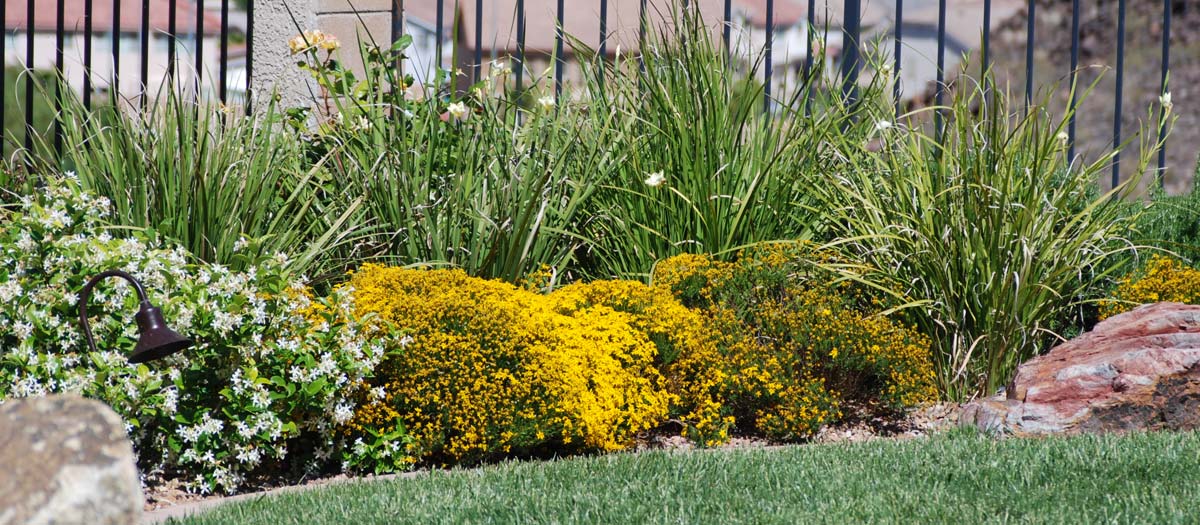 Installing and maintaining your landscape
Whether you are creating a new landscape or maintaining an existing one, keeping your yard healthy in our desert climate can be a challenge. Follow these tips to ensure your landscape thrives.
Installing drip irrigation
Drip irrigation systems are ideal for desert plants because they apply water slowly and deeply to a plant's root zone, which allows dry desert soil time to absorb water that would otherwise evaporate or run off.
Drip Installation
Installing trees, plants and mulch
To ensure your plants will thrive, you'll need to properly prepare your soil. Plants flourish in loose, nutrient-rich soil–and because the soil in Southern Nevada is neither of these things, you will need to do some preparation.
Planting
Maintaining new landscapes
New plants need extra attention and watering as they take root in your yard. Mandatory watering restrictions allow for the extra watering of new plants for the first 30 days and hand-watering is allowed anytime.
During the first eight weeks, establish low-water-use and desert-adapted plants by following these watering suggestions.
Weeks 1 & 2: Water every 1–2 days in summer, every 3–4 days in fall, winter and spring
Weeks 3 & 4: Water every 3–4 days in summer, every 6–7 days in fall, winter and spring
Weeks 5 & 6: Water every 4–6 days in summer, every 7–10 days in fall, winter and spring
Weeks 7 & 8: Water every 7 days in summer, every 10–14 days in fall, winter and spring
After week 8: Check plants for proper drainage and signs of stress and water based on need. Water new plants if the first two inches of soil is dry and check drip emitter placement.
Home water savers
See how a Las Vegas couple saves water by making water-smart choices both inside and outside their home.
Get a Landscape Rebate
Day of rest
Nothing beats a lazy Sunday afternoon and even your irrigation system wants in on that action! Never water on Sundays.
Find Your Watering Days