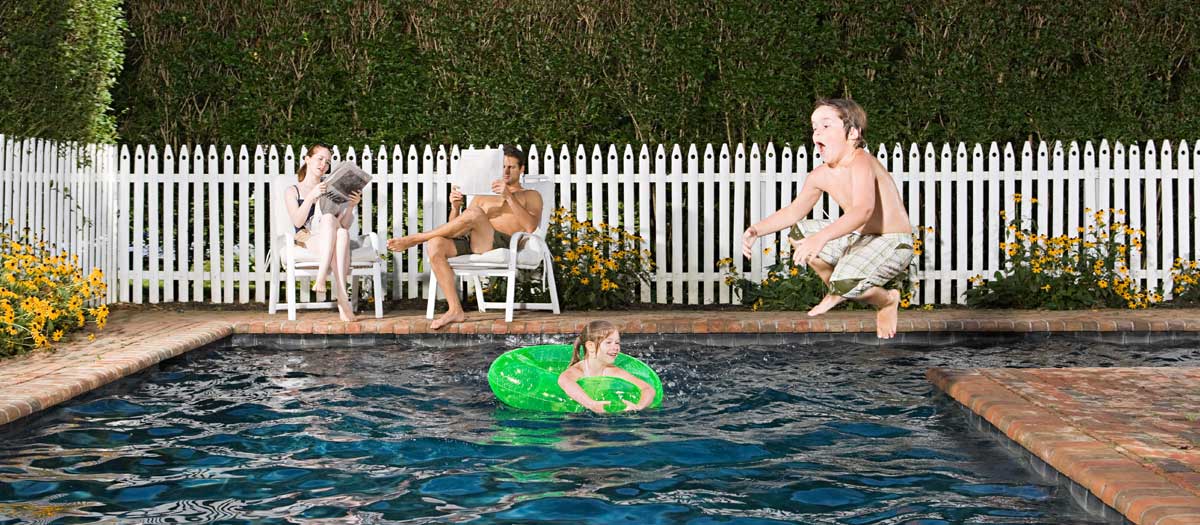 Pools and spas
A properly managed pool or spa can be an appropriate use of water if you use these tips to conserve. 
Cover your pool: The average in-ground pool loses 48.6 gallons of water per square foot per year to evaporation. For the typical residential pool size in Southern Nevada at 470 square feet, as much as 22,842 gallons of water is lost per year! 😲 Pool covers reduce evaporation by 90 percent, limit windblown debris, and conserve energy.
Protect the pool from wind: Wind exposure can increase evaporation in uncovered pools. Plant trees and shrubs that buffer your pool, but won't shed or drop leaves in the water.
Maintain pool filters: Wash cartridge filters when your pump operating pressure increases by 10 psi (pounds per square inch). You can wash cartridges on landscape areas since chlorinated pool water is diluted with clean water. Never allow wash water to run into the street.
Manage water quality: Test pool and spa water frequently and maintain appropriate chemical balances.
Heat pool conservatively: Warmer water means higher evaporation rates. Professionals recommend 78 degrees Fahrenheit as the ideal recreational pool temperature.
Residential pool size limits
Ongoing drought and climate change conditions continue to affect water levels in Lake Mead – Southern Nevada's primary water supply. As a result, the federal government declared a shortage on the Colorado River, reducing Southern Nevada's available water supply by 8.1 billion gallons, and additional reductions are expected in the coming years.
To help manage these water supply constraints, the Southern Nevada Water Authority approved a resolution in July 2022 that supports a 600-square-foot surface area limit on new residential pools. The Las Vegas Valley Water District and other local jurisdictions approved this change shortly thereafter with rule and code changes. This measure will help reduce consumptive water use associated with evaporative water loss, targeting savings from the top 25 percent of new pools constructed.
While the average size swimming pool in Southern Nevada is about 475 square feet, the new pool size limits will prevent large-scale, water-intensive residential swimming pools. The measure is expected to save more than 32 million gallons over the next 10 years. Learn about other laws and ordinances.
Test for leaks
This four-step bucket test may help you determine if you have a leak or a high evaporation rate.
Turn off the automatic fill valve.
Place a bucket on a step where the bucket rim is at least a few inches above the water line. Place a heavy weight in the bucket and add water until the water level inside the bucket is equal with the water level in the pool.
Leave the bucket and pool undisturbed for several hot days, then compare the water level in the bucket to the water level in the pool.
If the water level in the bucket is noticeably higher than the water level in the pool, you may be losing water to a leak. Contact a pool leak detection specialist.
Have a leak and need professional help? Browse our list of Water Smart Plumbers who have gone through SNWA water-efficiency training.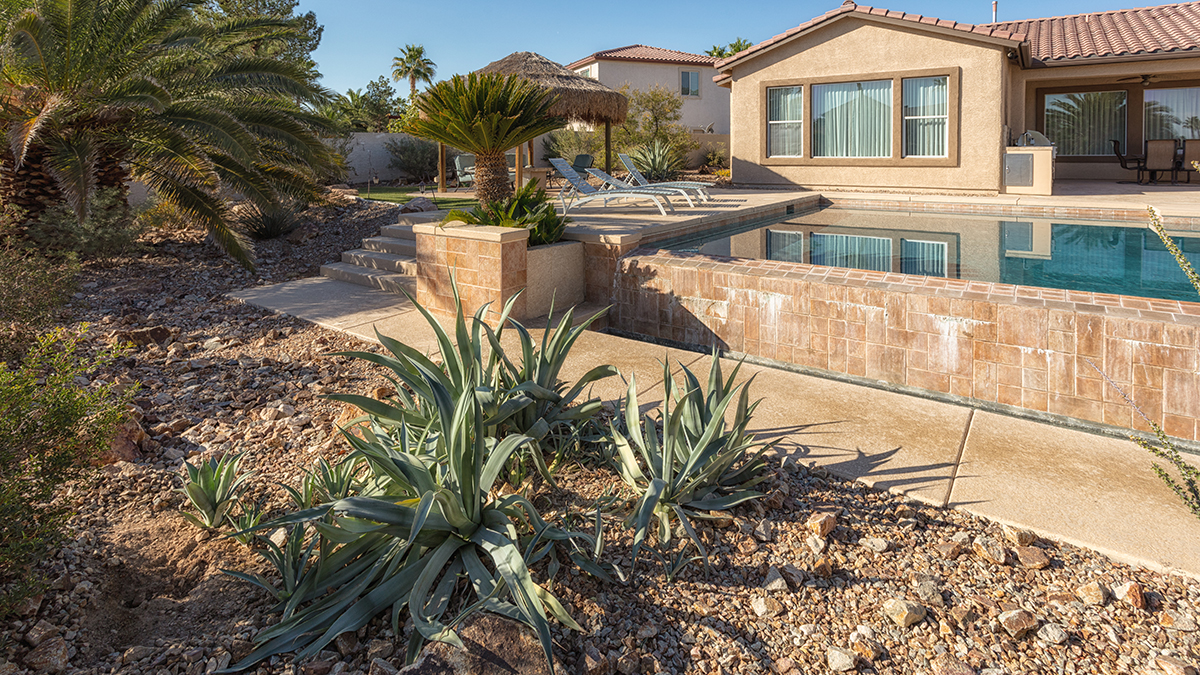 Pool-friendly landscape tips
Avoid plants that drop excessive flowers, leaves, seedpods and other debris that may easily enter the pool. Debris can diminish water quality, efficiency of pool equipment and your enjoyment. Don't use thorny or spiny plants that may create a safety hazard or puncture pool toys.
If you use plantings to "hide" pool equipment, be sure to leave adequate space and ventilation for safe operation and maintenance. 
Allow room for trees to attain their mature size, including their proximity to trees and buildings on neighboring lots. Shade trees provide a covered place for poolside relaxing or for a backyard picnic.
Our Plant Search tool has many pool-friendly options for your landscape.
Draining pools and spas
Local water-waste ordinances and some water providers' service rules prohibit discharging pool water to the street or storm drain. Pool water must be drained directly to the sanitary sewer system, which allows the water to be recycled and reused. Find your pool clean-out port in order to drain to the sewer.
Never drain a pool into a septic tank, which can quickly overfill.
Pool draining tips
Shut off the power to the pool's filtration system at the circuit breaker and turn off the automatic water fill valve.
Find the sewer clean-out port to access the sanitary sewer line. The port is usually located in the ground and close to the home, often near a water spigot. The port should have a rubber or threaded cap with a square wrench fitting and be about three to four inches in diameter.
Run a drainage hose from the sewer clean-out port to the pool, and connect it to a submersible pump. Lower the pump into the deepest area of the pool, near the drain. As you drain, monitor flow into the clean-out port to ensure water doesn't back up into your home's sink and shower drains. If back-up does occur, stop and contact a professional plumber. The maximum recommended discharge rate is 12 gallons per minute—a safe pumping rate may be less. (Note: any hoses or equipment inserted into the sewer line can become contaminated 

and should be used only for similar purposes in the future.

)
After draining your pool, refill it as soon as possible. Direct sunlight can damage your pool's exposed plaster. It may take a few days for the fresh water to reach the proper chemical levels, so check the levels daily for a week and add chemicals as needed.
If your pool has a dedicated sewer connection, also known as an integrated system, refer to your owner's manual or contact your pool contractor for draining instructions.
You may want to consider contacting a licensed pool service or plumber if you're unsure about draining your pool or need assistance.
Clean-out ports
View examples of pool clean-out ports to help you track yours down.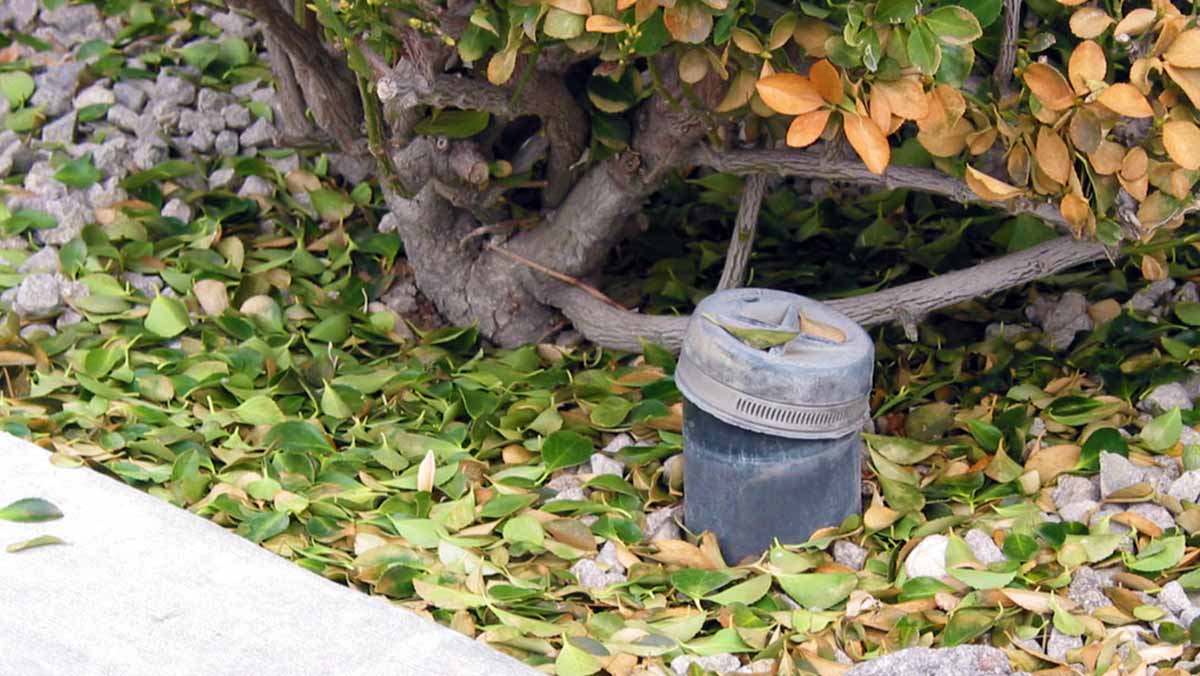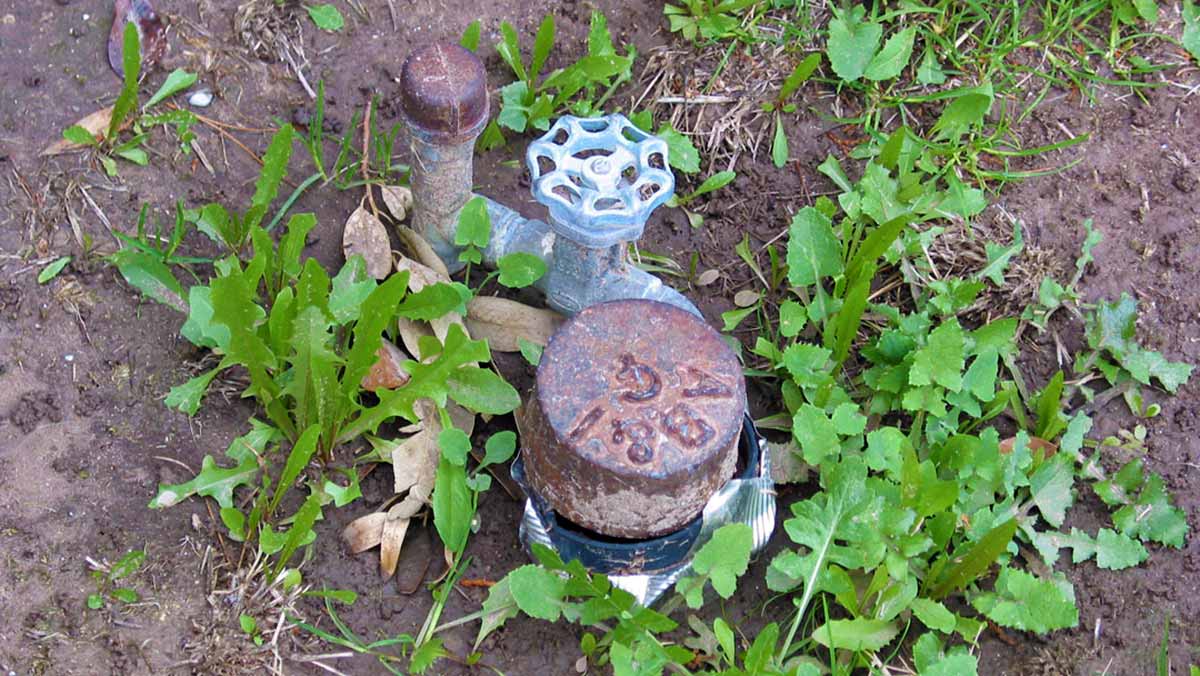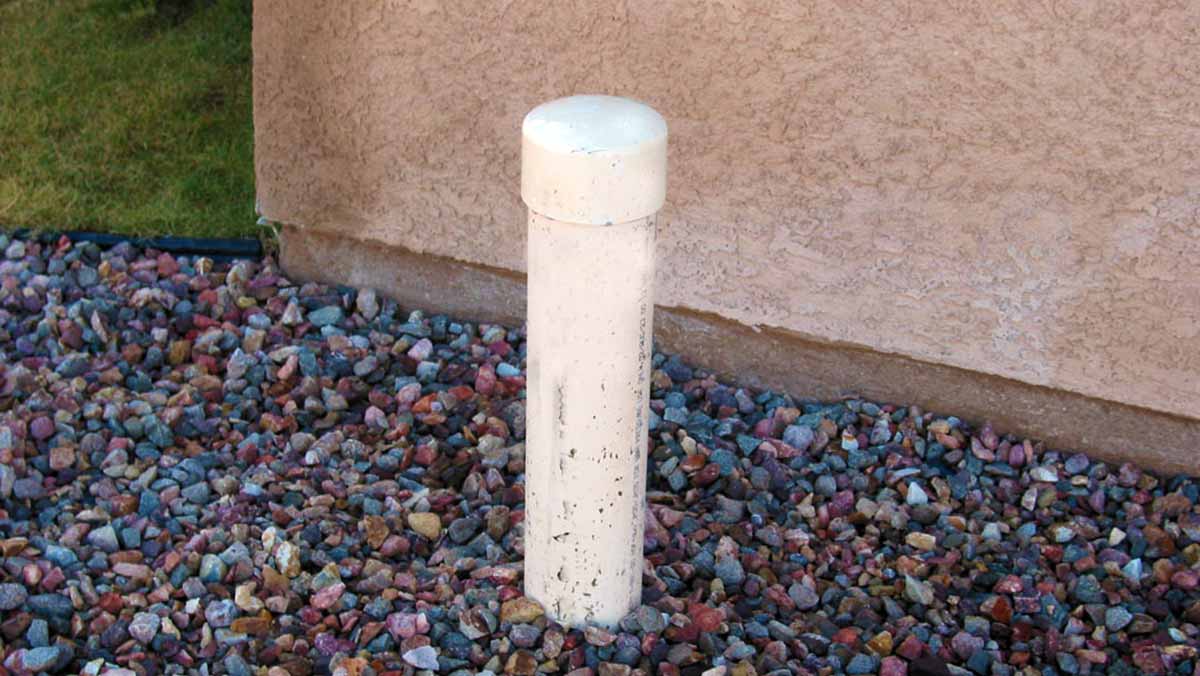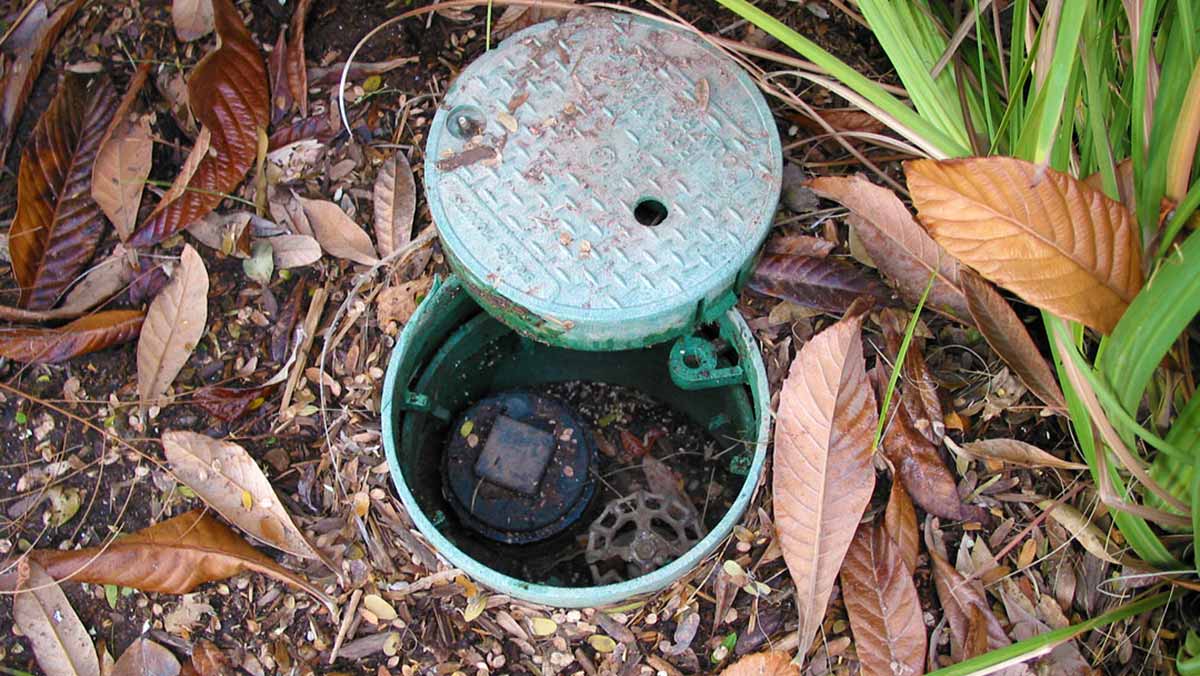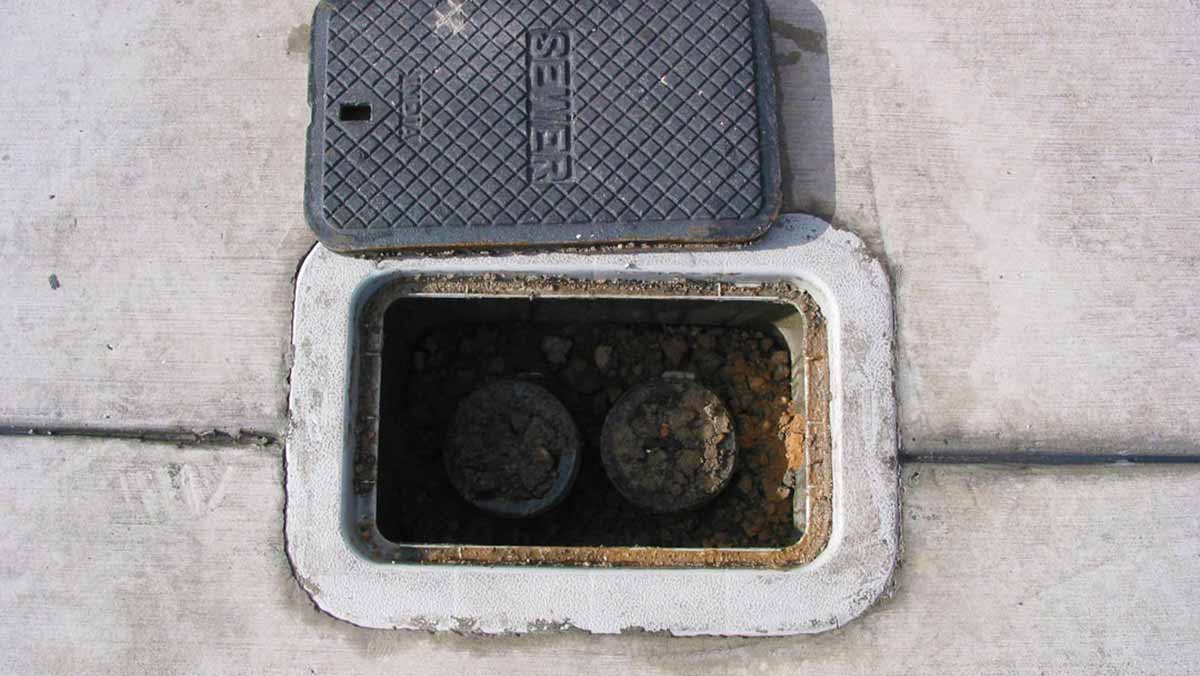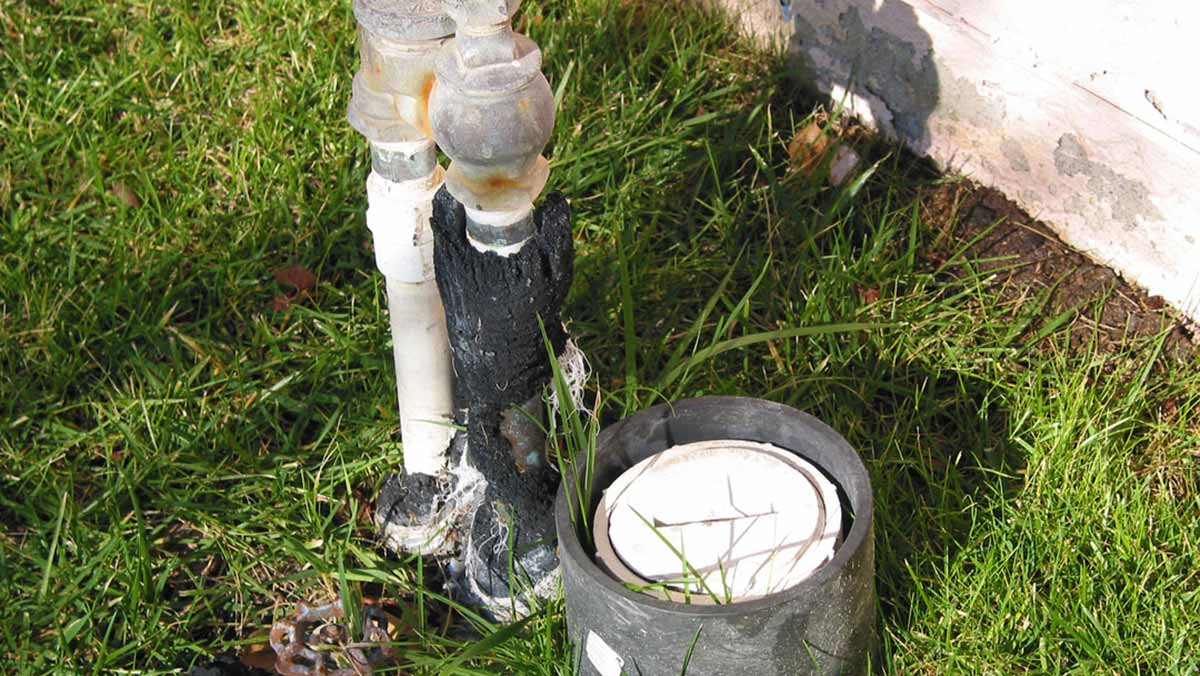 The sewer clean-out port will likely be 3 to 4 inches in diameter and have a clamped, rubber cover or threaded cap.
If you have difficulty finding the clean-out port, it may be covered by landscaping.
The preferred port is usually located at ground level in the landscaped area of the front yard, close to the home. Some sewer ports may be embedded in the driveway or garage floor.
Some sewer ports may be within a wall. Use caution if this is the case, as wall-mounted ports create greater potential for water to back up into the home.
If there are two ports, use the port nearest to the home and not embedded in the wall.
Do not drain a pool into a septic tank, which can quickly overfill.
Replacing the water in your pool or spa
You do not need to notify the Southern Nevada Water Authority or your water service provider when you replace the water in your pool. However, keep in mind that filling your pool may result in a high water bill. Contact your water service provider for questions about how your bill may be impacted.
Consult your pool care professional for maintenance questions, including advice on whether a partial fill or full fill is required for your pool's maintenance and/or water quality.
Interested in ditching your pool and replacing it with water smart landscaping? If your pool is currently in good working order, you may qualify for our Water Smart Landscapes Rebate.
Local pool contacts
If you are on a septic tank or have other questions about how to drain your pool, contact the appropriate municipal agency.
These are general guidelines and are intended for informational purposes for private, residential pools only. The user shall assume all risks. For further questions on pools and/or spas, please call the Southern Nevada Health District at 702-759-0571.