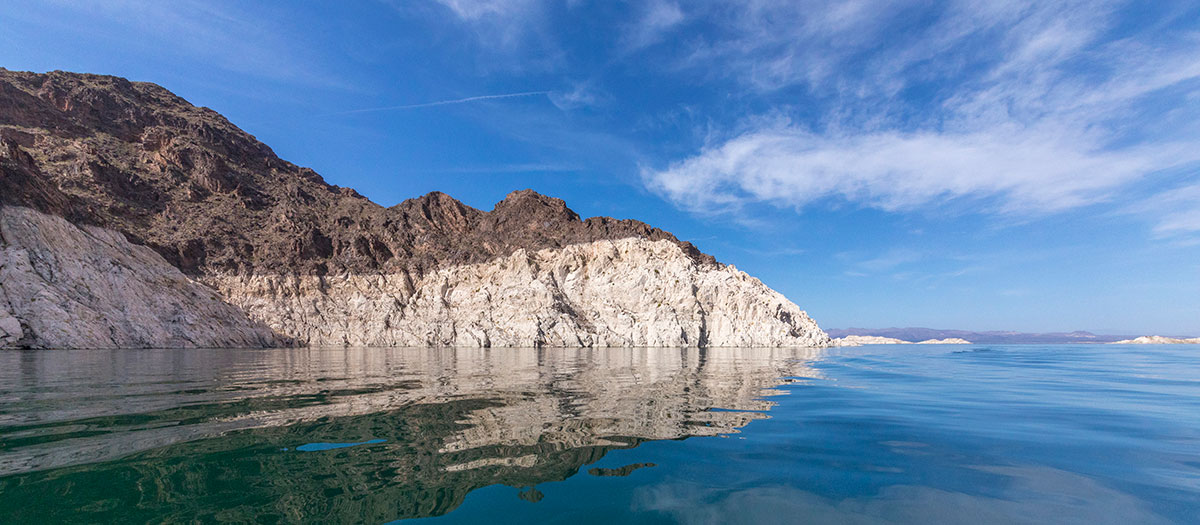 Drought and shortage
The Colorado River is experiencing the worst drought in recorded history. Between 2000 and 2018, snowfall and runoff into the Colorado River Basin were well below normal. These conditions have resulted in significant water level declines at major system reservoirs, including Lake Mead and Lake Powell.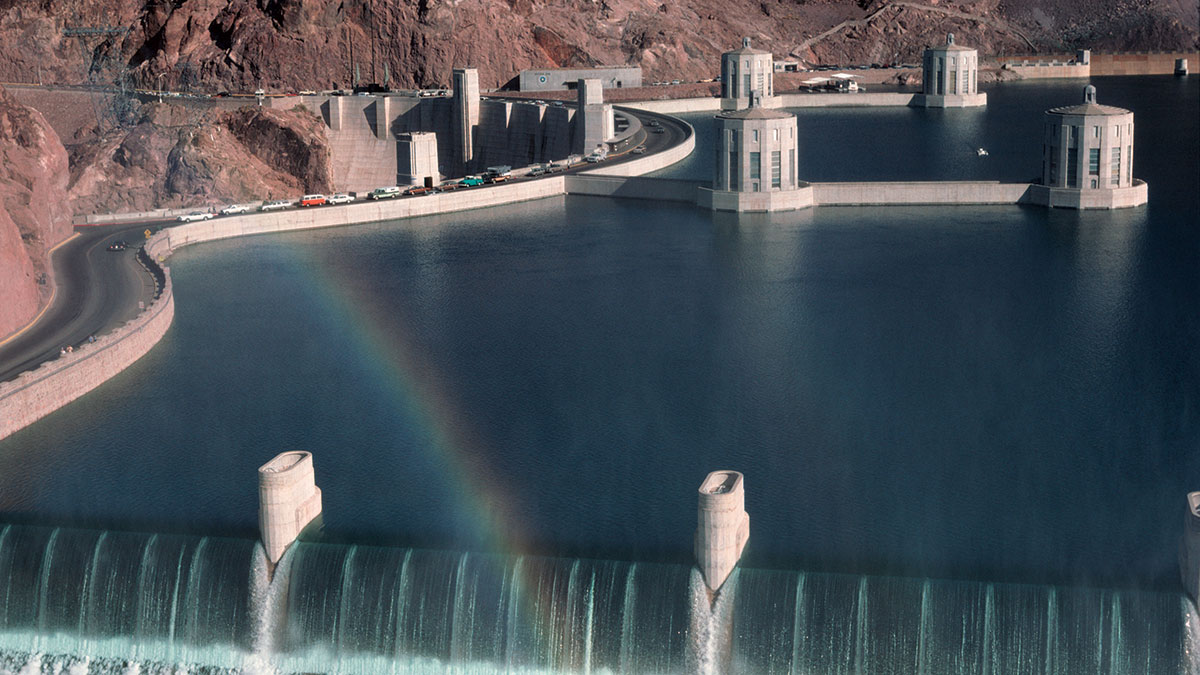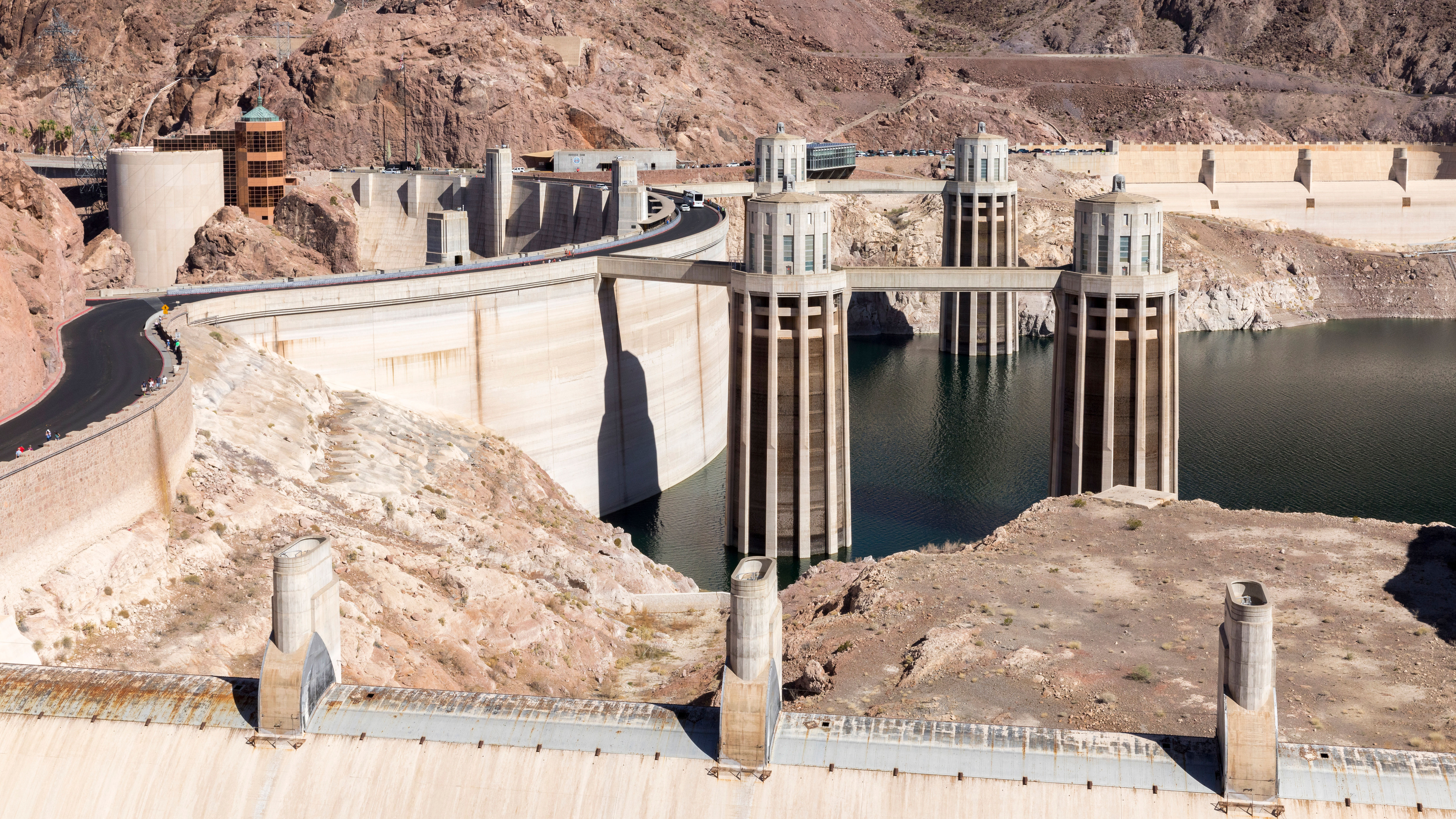 Water from Lake Mead flows over the spillway at Hoover Dam in 1983.
After many years of drought along the Colorado River, the view of the spillway at Hoover Dam is much different in 2018.
Hoover Dam
The 1922 Colorado River Compact provided the legislative stimulus to harness the Colorado River. Congress authorized the building of Hoover Dam in 1928, and construction began in 1931.
Completed in 1936, Hoover Dam was designed to regulate Colorado River flows and also provides water storage and produces hydroelectric power.
The dam created Lake Mead, which stores the Colorado River allocation for Nevada, California, Arizona, and the country of Mexico.
When full, Lake Mead holds almost 9.5 trillion gallons of water, the equivalent of a 5-year supply for water users in Nevada, Arizona, California, and Mexico.
Ongoing drought has reduced the contents of Lake Mead significantly.
Responding to drought
The federal government is projecting a high probability that Lake Mead water levels will continue to decline, which could trigger a federally imposed shortage declaration. Under current rules, Nevada and other Lower Basin water users must reduce their Colorado River water use during shortage.
For more than a decade, federal, state and municipal water providers in the Colorado River Basin have been working together to slow the decline of Lake Mead water levels, forestall the declaration of shortage and reduce the magnitude of potential water supply reductions.
While water supply challenges associated with drought are serious, the Water Authority has worked diligently to ensure water resources and facilities are available to meet our community's short- and long-term needs. Continued water conservation and adaptive management are ongoing priorities as our community responds to drought.
Interim Guidelines
The 2007 Interim Guidelines for Lower Basin Shortages and Continued Operations for Lake Powel and Lake Mead (Interim Guidelines), establish how shortages in the lower Colorado River basin will be implemented.
The Secretary of the Interior will make a shortage declaration when the federal model projects Lake Mead to be at or below 1,075 feet on January 1 of the following year. The model is run annually, in August.
Under a shortage declaration, the amount of water available to Nevada and Arizona will be reduced.
Interim Guidelines

| Lake Mead water level | Nevada shortage | Arizona shortage |
| --- | --- | --- |
| 1,075-1,050 feet | 13,000 acre-feet per year | 320,000 acre-feet per year |
| 1,050-1,025 feet | 17,000 acre-feet per year | 400,000 acre-feet per year |
| Below 1,025 feet | 20,000 acre-feet per year | 480,000 acre-feet per year |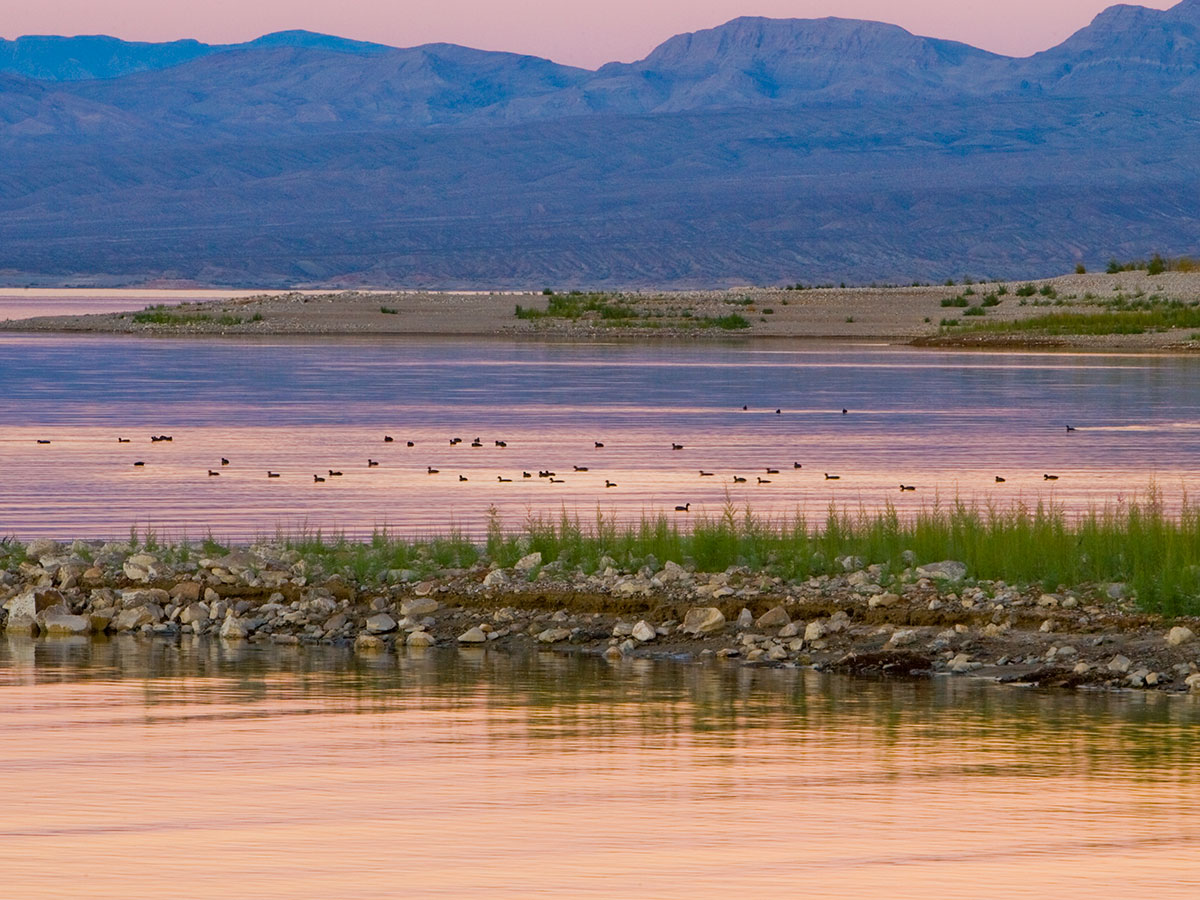 System conservation
Federal, state and municipal resource managers in the Colorado River Basin have worked to mitigate the impacts of ongoing drought, slow the decline of Lake Mead water levels, and bolster reservoir water levels.
These efforts are intended to protect against critical reservoir elevations that could disrupt hydropower generation and limit water supply access for millions of lower basin water users in the Colorado River Basin.
To date, collaborative efforts have increased Lake Mead storage and reduced water level decline by approximately 25 feet.
Adaptive management
The Water Authority has taken several steps to reduce impacts of drought to water supplies and facilities. Those efforts include:
Reducing consumptive use of Colorado River supplies through conservation by approximately 85,000 acre-feet of water per year (approximately 28 billion gallons) between 2002 and 2017.
Storing nearly eight times Nevada's 2017 Colorado River consumptive use through increased water banking efforts.
Completing major facilities at Lake Mead to ensure continued delivery of Colorado River water to Southern Nevada under low reservoir conditions.