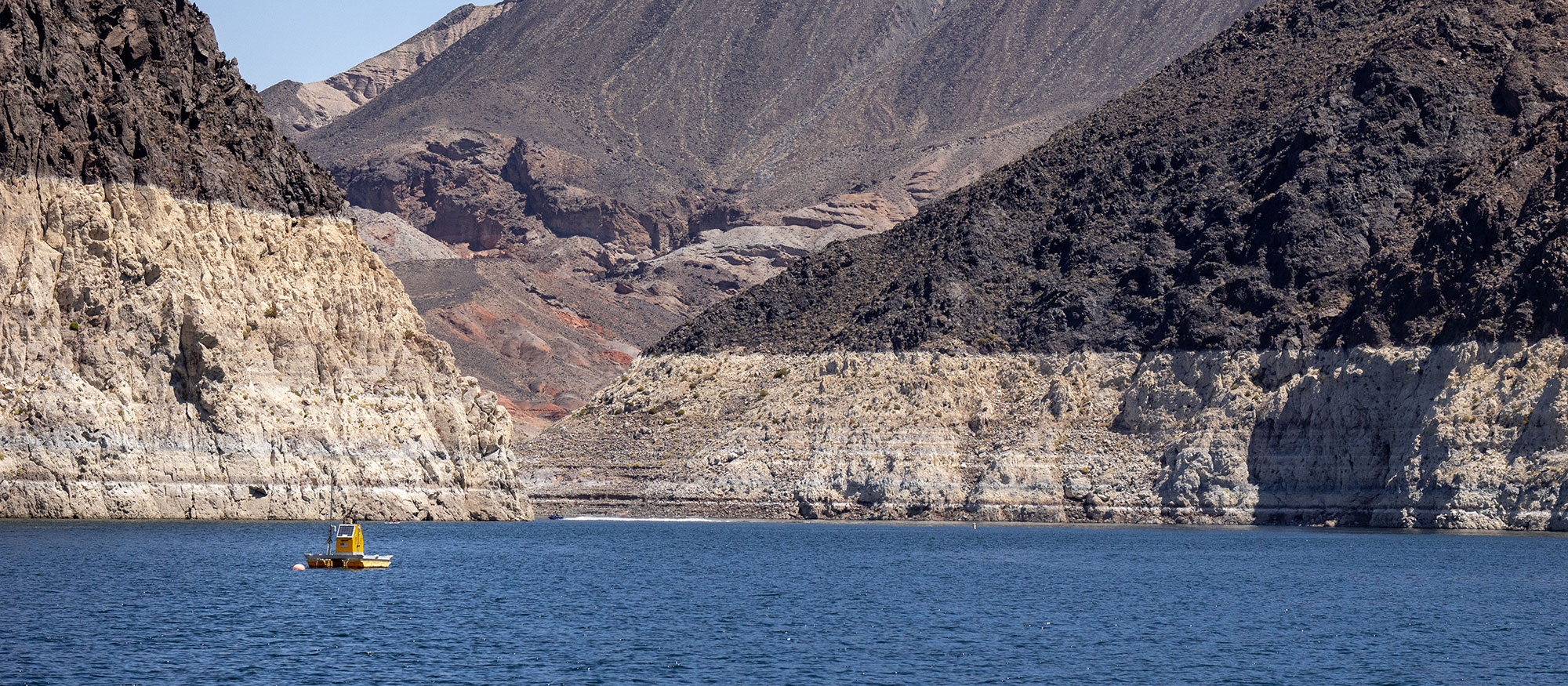 What we're doing to conserve
The Colorado River system is facing the worst drought in the river basin's recorded history. The water level of Lake Mead, which serves as one of the river's primary water storage reservoirs, has dropped more than 150 feet since January 2000, and the federal government has issued a water shortage declaration on the Colorado River.
For more than 20 years, the Southern Nevada Water Authority has been taking actions to respond to the drought and prepare for potential water cuts. 
Water Resource Plan
Our Water Resource Plan contains details on how we will meet the community's water needs, both in the short term and for the next half-century.
Program achievements
The Water Authority has developed and implemented one of the most comprehensive water conservation programs in the nation.
Conservation efforts have helped the community reduce its per capita water use by 51 percent between 2002 and 2022, even as the population increased by more than 745,000 residents during that time.
Programs that have helped us achieve this accomplishment include:
Water Smart Landscape Rebate Program - More than 210 million square feet of grass have been removed, saving more than 170 billion gallons of water since 1999.
Water Efficient Technologies Program -

Since 2001, participating businesses have saved more than 19 billion gallons of water through the program.

Water Smart Homes - Nearly 13,000 homes were built via the program from 2005-2020, saving 14 billion gallons of water.
Pool Cover Instant Rebate Coupon Program - More than 45,000 coupons were distributed before the program was retired in June 2020, saving an estimated 5.6 billion gallons of water.
For more information about the history of SNWA's conservation program, read the Conservation Plan.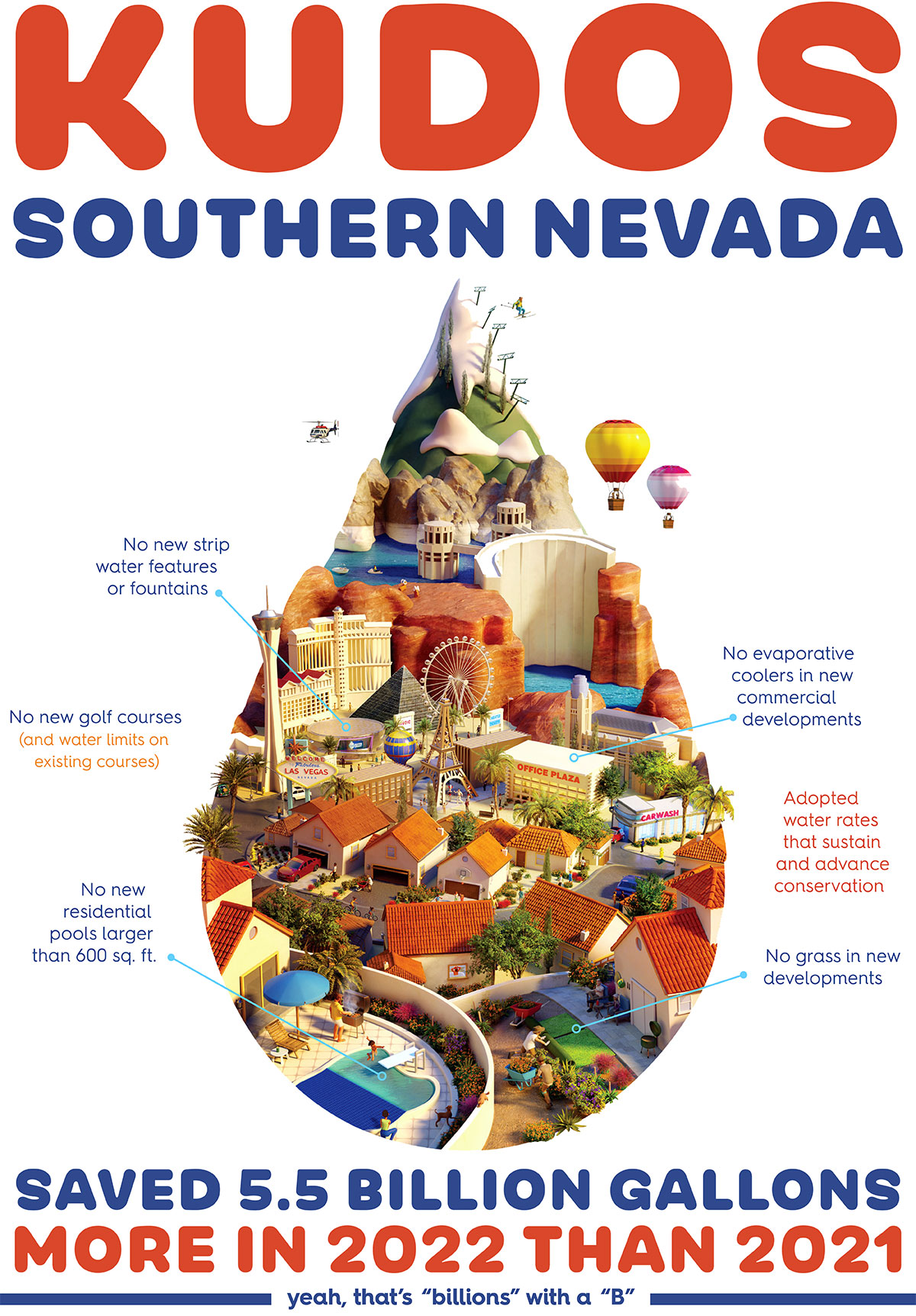 We'll conserve even more thanks to these new conservation measures!
New initiatives
Continued declines in Lake Mead's water level are expected as Southern Nevada experiences a permanent transition to a more arid future, the result of ongoing climate change. For this reason, additional efforts are needed to ensure a reliable long-term water supply for our community.
Recognizing water conservation as a critical resource, the SNWA established a new conservation goal of 86 GPCD (gallons per capita per day) by 2035.
Several major new water efficiency measures have either been adopted or are being considered by the Water Authority:
How much water does Las Vegas need to save?
The city known for indulgence and excess is arguably the best in the world when it comes to water conservation. Still, Las Vegas has work to do to make the community sustainable for the future and everyone has to play a role. Learn about the key water savings metrics needed as Lake Mead continues to operate under a federally-mandated water shortage declaration.
We see what you see, less water at Lake Mead
Two decades ago, the Southern Nevada Water Authority recognized the challenges our community could face as the Colorado River began delivering less water to Lake Mead due what is now being called a megadrought. It acted quickly to ensure Las Vegas and Southern Nevada would have reliable access to water, even in a dead pool scenario.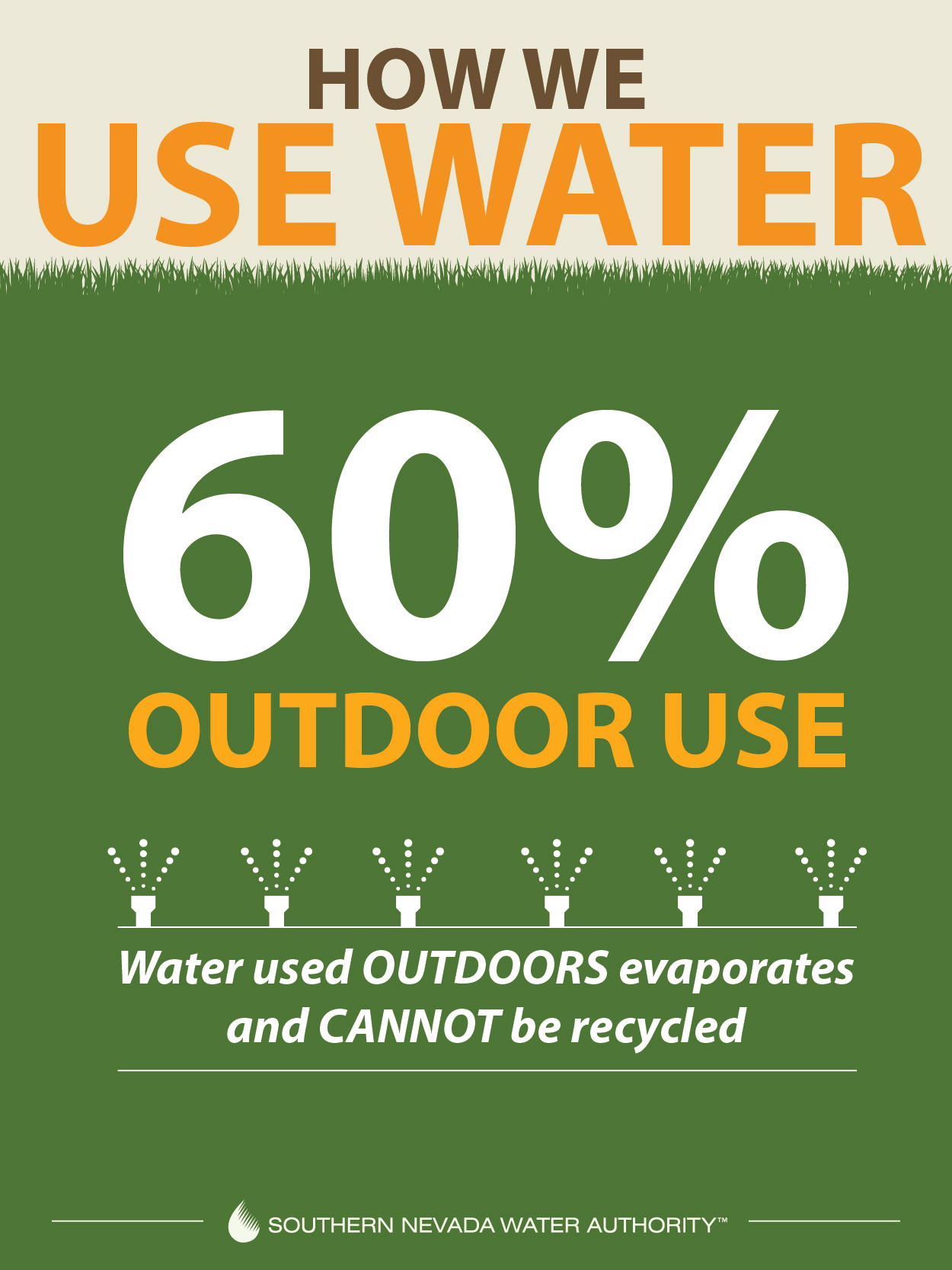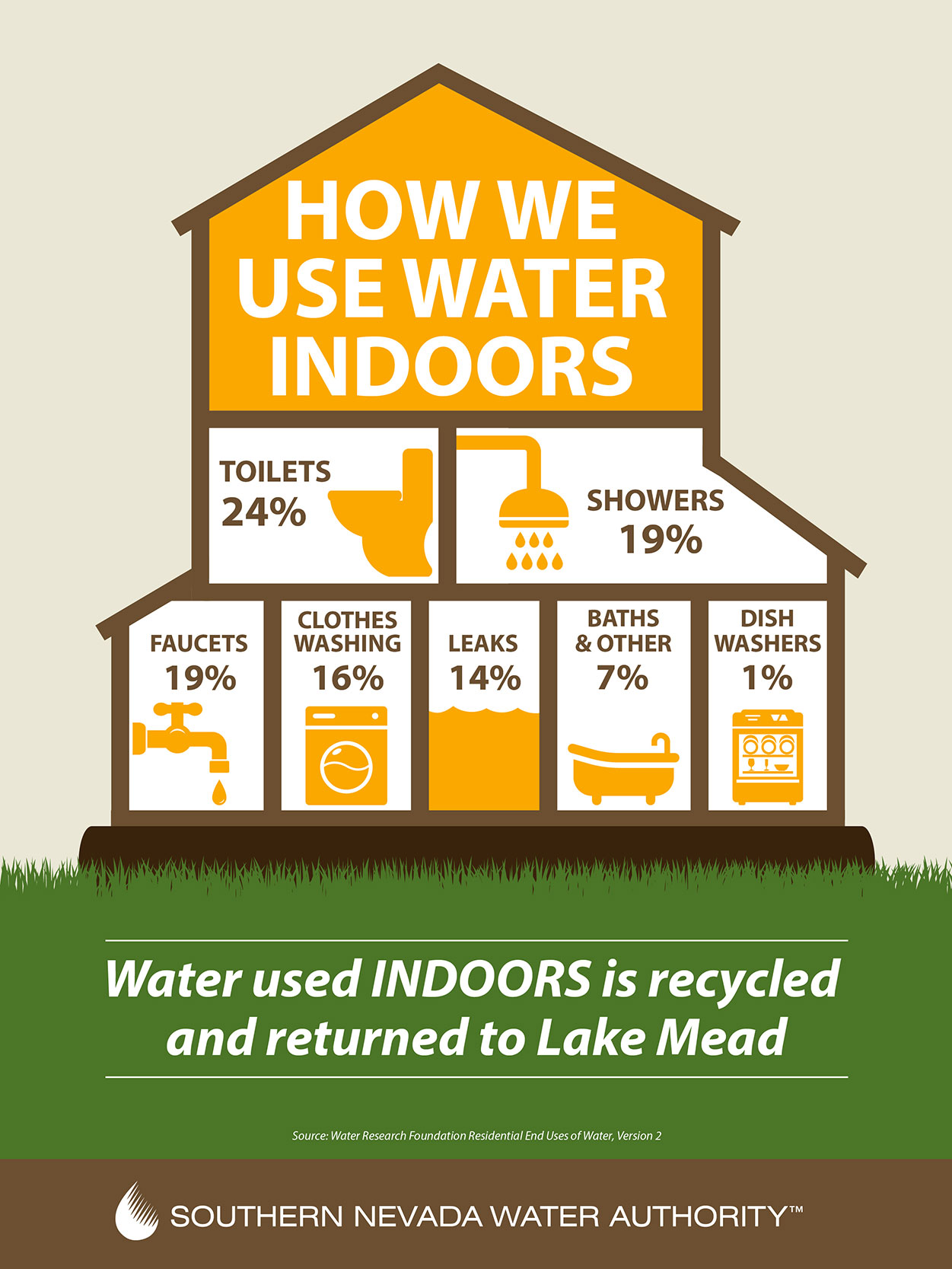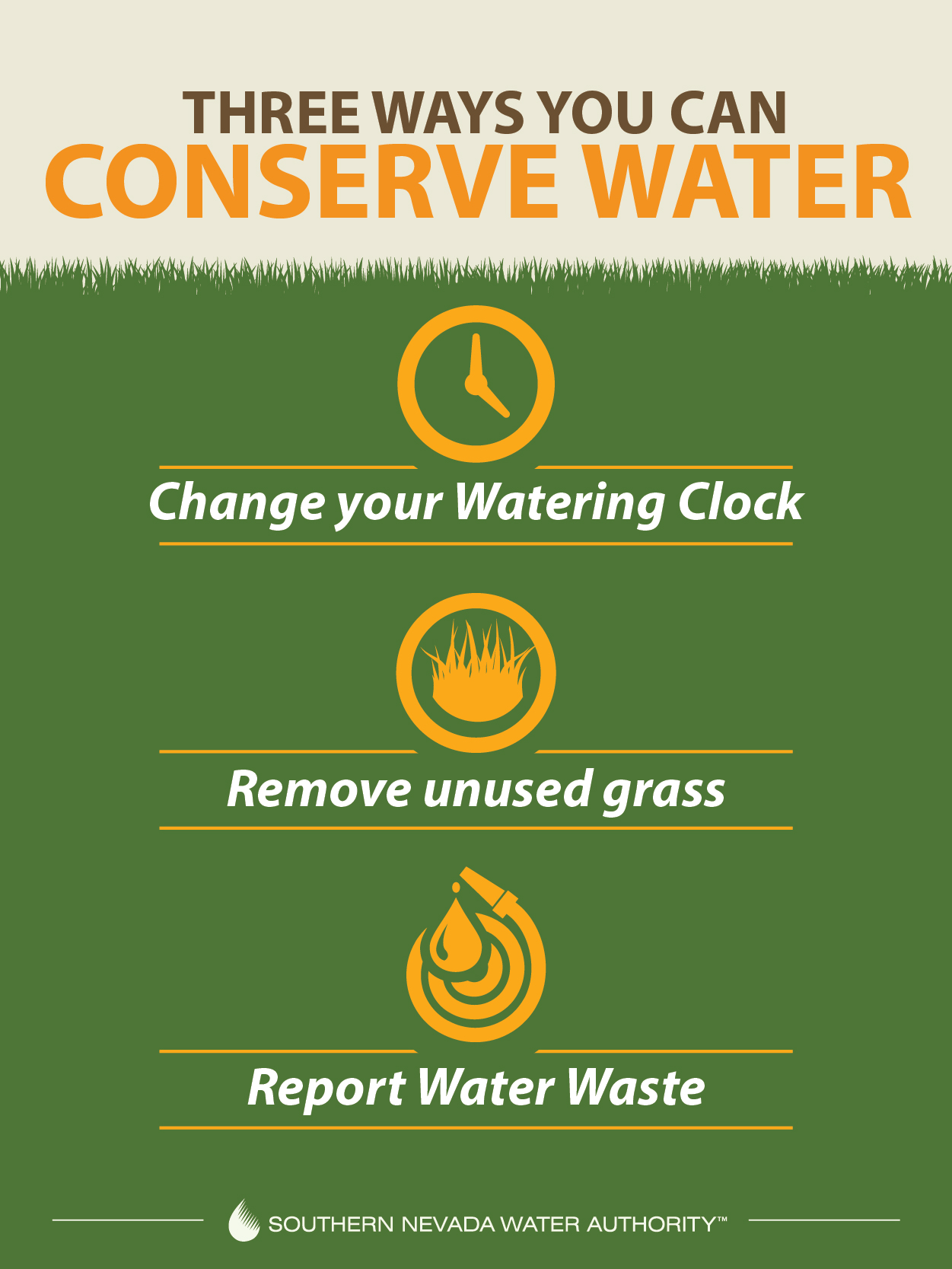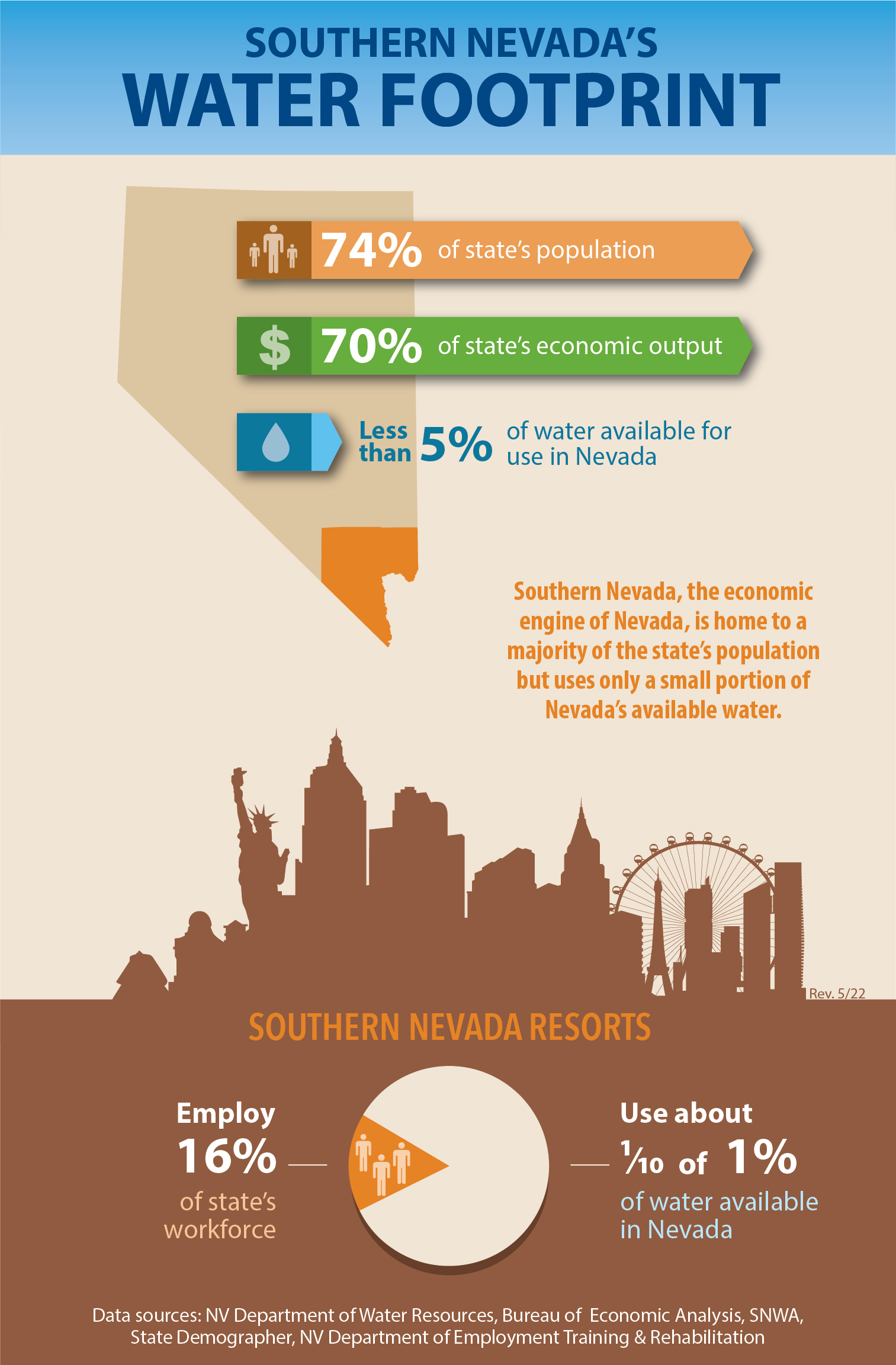 The majority of Southern Nevada's water is used outdoors. Most of that evaporates and cannot be returned to Lake Mead.
Nearly all the water we use indoors in Southern Nevada is treated and returned to Lake Mead. This recycled water earns us return-flow credits, which stretches our limited water supply.
Southern Nevada contains 74% of the state's population and creates 70% the state's economic output, while using less than 5% of water available for use in Nevada. Southern Nevada resorts employ 16% of the state's workforce and only use about 1/10 of 1% of water available in Nevada.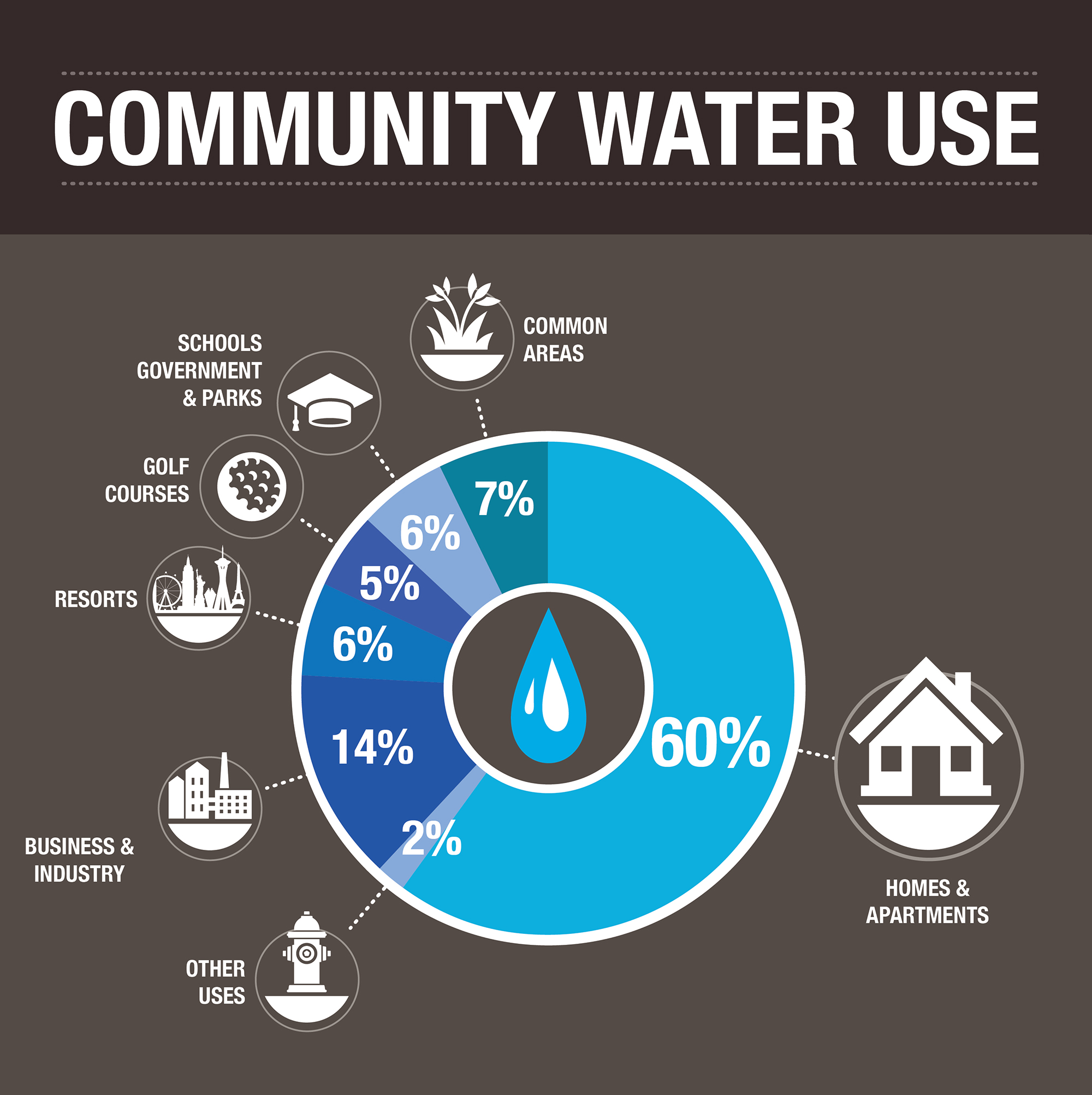 Homes and apartments make up 60 percent of the community's water use, and residents have the biggest opportunity to help protect and conserve Southern Nevada's resources. However, every sector of our community has been required to make sacrifices in response to drought conditions and federal water cuts. Learn how all of Southern Nevada is working together on the path to water security.
Community water use by sector