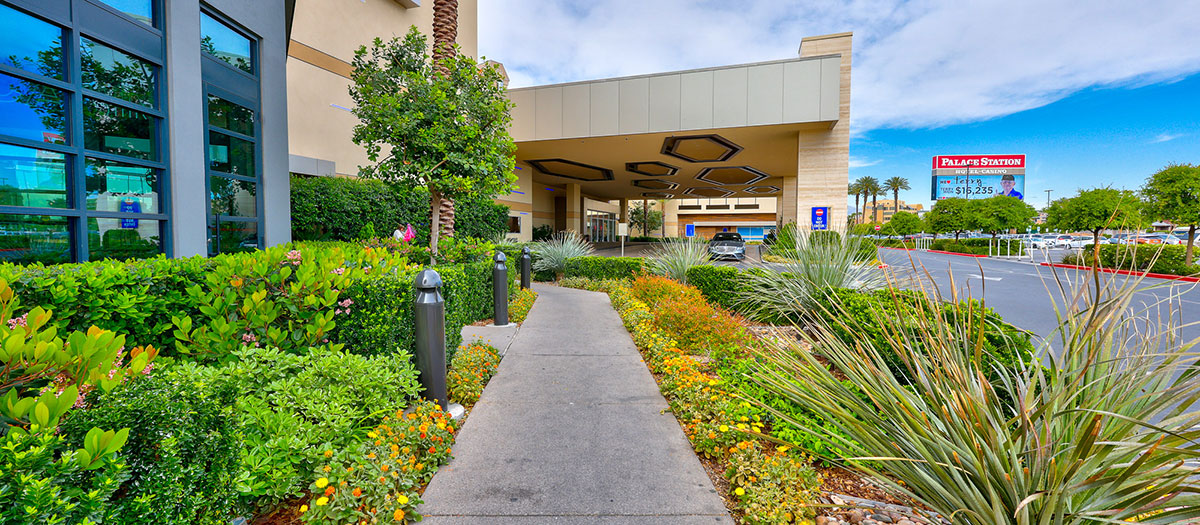 Business incentives and programs
We offer a variety of programs and resources to help businesses save water.
Water Smart Business program
If you believe in Southern Nevada's business future, grow your company's conservation commitment—with bottom-line results—by becoming a Water Smart Business. 
By committing to the Water Smart Business program, you recognize the importance of: 
Prioritizing water efficiency through increased participation in water conservation incentive programs that yield the greatest water savings
Utilizing the internal and external communication channels of your businesses to increase awareness of water conservation programs and water use restrictions throughout your industry and employee/client bases
Fostering greater community connection and engagement as an active participant in water conservation
Become a Water Smart Business
Learn more about program requirements and benefits for Executive and Partner-level memberships, and find out how to apply.
Water-saving programs for businesses
Water Smart Landscapes rebate program
Take advantage of the Water Smart Landscapes rebate to convert water-thirsty grass to desert landscaping and receive $3 per square foot of grass removed and replaced with desert landscaping up to the first 10,000 square feet converted, and $1.50 per square foot thereafter per property.
A new law prohibits the use of Colorado River water to irrigate nonfunctional grass found around Southern Nevada business complexes, along streets in HOA communities, and in traffic circles and medians, beginning in 2027.
Smart business owners will quickly realize that converting to a water-smart landscape makes good business sense. A savings of 825,000 gallons of water per year is projected for the average 15,000 square-foot conversion to water-smart landscaping.
Water Efficient Technologies
The Water Efficient Technologies (WET) program offers financial incentives to commercial and multifamily property owners who install water-efficient devices and technologies.
You can choose from a menu of pre-approved water-saving technologies with predictable savings and a defined monetary incentive, or we'll work with you to implement custom technology that meets your business needs, then qualify for a performance-based monetary incentive.
Since 2001, participating businesses in the WET program have saved more than 19 billion gallons of water through the Water Efficient Technologies program.
Need help funding your project? Learn more about the Commercial Property Assessed Clean Energy (C-PACE) program, a low-cost, long-term financing option for water efficiency projects including turf conversions and the replacement of evaporative cooling systems with more water-efficient technologies.
Conservation Resources for Businesses
Want to create a water smart workforce? By working with the Southern Nevada Water Authority (SNWA), businesses can create or expand their sustainability practices by educating employees and customers on the importance of conservation and the many ways they can save water and money.
Free of charge, the SNWA offers a myriad of opportunities including:
Staff to attend employee expos and events to answer questions and provide outreach materials
Speakers to conduct educational presentations to your employees
Conservation content and visuals for employee newsletters and other communications
Access to conservation experts to assist with incentives for upgrading your business with water efficient devices, technologies, and landscaping
Water conservation collateral such as posters, flyers, banners and more
Information about Water Smart Business Program membership
Water Upon Request
Available at no charge to Southern Nevada restaurants, the Water Upon Request program provides water-saving menu stickers that indicate the restaurant's support of conservation by serving water only upon request.
For every glass of water not served, as much as 1.5 to more than 3 gallons of water are saved.
To date, more than 200 restaurants have participated in the program, created in partnership by the Nevada Restaurant Association, Water Conservation Coalition, and Southern Nevada Water Authority.
Participate in the program by completing the form below, or call 702-822-8496 for more information. Re-order reminders are sent out to all participants twice yearly.
Smart irrigation controller rebate program
It's time to get smart about landscape irrigation! Investing in a smart irrigation controller for your business is now easier than ever, thanks to our rebate.
Smart irrigation clocks automatically adjust your watering according to the weather and many provide convenient access via mobile applications.