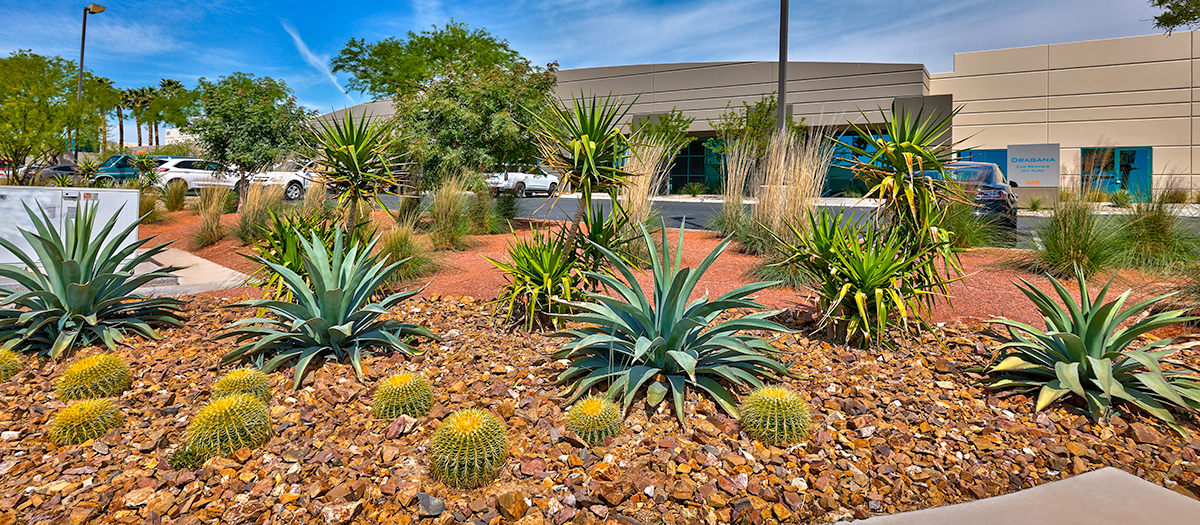 Water Smart Business program
If you believe in Southern Nevada's business future, grow your company's conservation commitment—with bottom-line results—by becoming a Water Smart Business.
For more than a decade, the Southern Nevada Water Authority (SNWA) has been partnering with the business community to promote water efficiency with programs such as Linen Exchange for hotels, Water Upon Request for restaurants, Water Smart Landscaper for landscaping and Water Smart Car Wash for vehicle washing.
Now we can do even more. This isn't about meetings or congratulatory pats on the back. This is about action. By committing to the Water Smart Business program, you recognize the importance of:
Prioritizing water efficiency through increased participation in water conservation incentive programs that yield the greatest water savings
Utilizing the internal and external communication channels of your businesses to increase awareness of water conservation programs and water use restrictions throughout your industry and employee/client bases
Fostering greater community connection and engagement as an active participant in water conservation
Apply today
Ready to become a Water Smart Business?
Executive Membership Application
Partner Membership Application
Questions about the program? Give us a call at 702-862-3740.
Executive membership
Program requirements
Complete an SNWA-approved water efficiency project (turf conversion, cooling tower retrofit, water efficient fixture upgrade, etc.) prior to membership being granted. The water savings associated with the project must be equal to at least 5 percent of your business's water use for the previous calendar year.*
No documented fee assessments for water waste violations or unresolved on-site leaks for the past 18 months
Eliminate non-functional turf within initial two-year membership period
Include conservation-related information in existing internal communications channels, allow SNWA displays or allow SNWA representatives to participate in member-sponsored events
Participate in SNWA media relations activities (where feasible)
Submit annual progress report of projects and water savings to SNWA
* Those without feasible opportunity may "sponsor" a project at an SNWA-approved property.
Participant benefits
The SNWA recognizes the commitment enterprises make to meet program participation requirements and is prepared to provide commensurate promotional value in return for these measures. Based upon production schedules and space availability, Executive members will be recognized in one or more of the following SNWA communications channels, with a minimum of four promotional opportunities per year:
Logo and link to business on this page
Recognition on SNWA social media platforms
Reference in SNWA advertorials
Reference ("Look for Water Smart Businesses on snwa.com") in new customer packets
Recognition in GM Update newsletter
Video profile in Vegas Valley H2O TV program
Recognition on Water Smarts podcast
On-property recognition materials (window clings, POPs, etc.)
Inclusion in displays/literature at SNWA community/business outreach events
Discounted venue rentals at the Springs Preserve for enterprise-hosted events
Partner membership
Program requirements
Work as an ambassador, as appropriate, promoting awareness through community engagement
If within an appropriate business sector, participate in an SNWA Partnership Program (Water Smart Car Wash, Water Smart Contractor, Conservation Resources for Businesses, Water Upon Request)
No documented fee assessments for water waste violations or unresolved on-site leaks for the past 18 months
Eliminate non-functional turf within initial two-year membership period
Member businesses must include water conservation-related information in internal and external (where applicable) communication channels, with verifiable placement
Participants must, as feasible and appropriate, display and/or distribute SNWA conservation-related informational materials or allow SNWA representatives to participate in member-sponsored events
Participate in SNWA media relations activities (where feasible)
Participant benefits
Partner-level Water Smart Businesses will be recognized a minimum of twice annually through one or more of the following channels:
Logo and link to business on this page
Recognition on SNWA social media platforms
Reference ("Look for Water Smart Businesses on snwa.com") in new customer packets
Recognition on Water Smarts podcast
On-property recognition materials (window clings, POPs, etc.)
Participating Water Smart Businesses
Coming soon