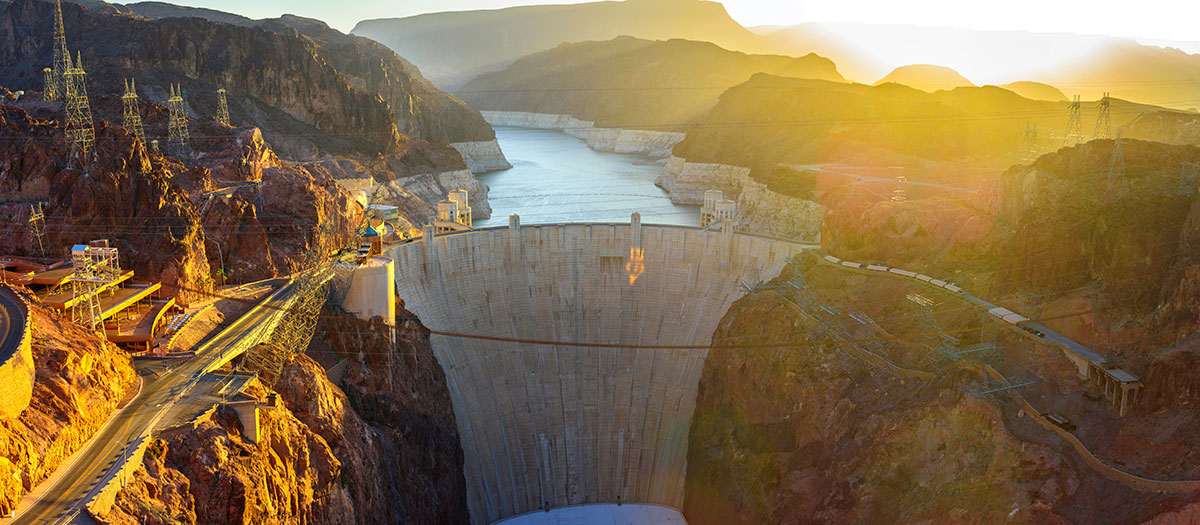 Mission and history
In 1991, seven local water and wastewater agencies formed the Southern Nevada Water Authority (SNWA) to address water issues on a regional basis, rather than an individual water purveyor basis. These member agencies are:
Collectively, SNWA member agencies serve more than 2.2 million residents in Southern Nevada. As the wholesale water provider, SNWA is responsible for water treatment and delivery, as well as acquiring and managing long-term water resources for Southern Nevada.
Our mission is to provide world-class water service in a sustainable, adaptive, and responsible manner to our customers through reliable, cost-effective systems.
Milestones
SNWA established (1991)
Water conservation program (1991)
Bureau of Reclamation contract (1992)
Integrated Resource Planning Advisory Committee (1994-1998)
Lower Colorado River Multi-Species Conservation Program (1994)
Colorado River Commission Partnership (1995)
Capital Improvements Program (1995)
Las Vegas Valley Groundwater Management Program (1997)
Advisory Committee for Groundwater Management (1997-present)
Water Quality Citizens Advisory Committee (1997-98)
Las Vegas Wash Coordination Committee (1998-present)
Las Vegas Wash (1998)
Water Smart Landscapes rebate (1999)
Arizona banking agreement (2001)
Interim surplus criteria agreement (2001)
Research and testing (2001)
River Mountains Water Treatment Facility (2002)
Drought Plan (2003)
Ozonation (2003)
Integrated Water Planning Advisory Committee (2004)
California Water Bank (2004)
Silverhawk Power Plant begins operation (2004)
Water Smart Home program (2005)
Pool Cover Rebate Coupon Program (2005)
Water Smart Landscapes rebate increase (2007)
Warren H. Brock Reservoir (2007)
Intentionally created surplus (2007)
Colorado River augmentation study (2007)
Warm Springs Natural Area (2007)
Water Quality Laboratory and Applied Research & Development Center (2007)
Intake No. 3 (2008)
Water Utility Climate Alliance (2008)
WaterSmart Conference and Exposition (2008)
Mandatory drought restrictions made permanent (2009)
Photovoltaic systems (2009)
Yuma Desalting Plant pilot run (2010)
Capital Improvements Plan retired (2010)
Water Smart Landscapes program receives grant to expand (2010)
Colorado River Basin Supply and Demand Study (2011)
State Engineer rules on Spring, Cave, Dry Lake, and Delamar Valleys (2012)
Water pact signed with Mexico (2012)
Integrated Resource Planning Advisory Committee (2012-2015)
BLM issues rights-of-way (2013)
John Entsminger named General Manager (2014)
System Conservation Program initiated (2014)
Advisory committee makes recommendations (2014)
Tunnel bores through (2014)
River Mountains Solar Facility completed (2015)
Low lake level pumping station approved (2015)
Water Smart Landscapes Rebate increased (2015)
Intake No. 3 begins conveying water (2015)
Agreement signed between U.S. and Mexico (2017)
WaterSmart Innovations Conference and Exposition marks 10th anniversary (2017)
Warm Springs Natural Area opens to public (2017)
Water Smart Landscapes Rebate increased (2018)
Inaugurated into the Leading Utilities of the World (2018)
Partnership for Safe Water's Excellence in Water Treatment award (2018)
Alfred Merritt Smith Water Treatment Facility receives award (2019)
Drought contingency plans signed (2019)
Low lake level pumping station completed (2020)